Allure Magazine Picks SensiClear Acne Treatment as an Editors' Favorite
SensiClear and Allure Magazine are all about great skin so it is no wonder that Allure selected SensiClear as an Editors' Favorite beauty product.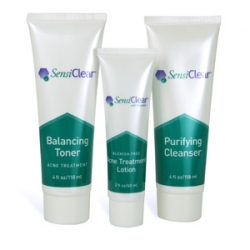 Menlo Park, CA, October 15, 2008 --(
PR.com
)-- "We're very pleased to have been chosen as a favorite and to be featured on Allure.com," said Charles Benard, Chief Marketing Officer for Mission Scientific. "This is a top beauty magazine, so naturally this means a great deal to us."
Here's what they said online: "Some multistep acne regimens are so drying, we only use a few of the products once in a while. This system—a cleanser, toner, and spot treatment—tackles zits and blackheads with salicylic acid and a patented hydrating molecule. It's so gentle that after two days of use, the only dried-out thing on our face was our breakouts."
Independent tests show that the
SensiClear
Acne Treatment System works faster within 72 hours compared with the leading benzoyl peroxide brand. It is over 200% more effective in eliminating ugly blackheads. It also worked faster and was 62% more effective in reducing large pimples during the first three critical days of acne care. SensiClear is over 60% more effective in overall reduction of total acne blemishes.
"This is the most advanced acne skincare treatment that can be purchased without a prescription," said Benard. "SensiClear is the only acne treatment system with the exclusive patented ingredient Retextra."
Sensiclear Acne Treatment System has won a spot in the hearts of Allure Magazine editors and is currently highlighted online as an Editors' Favorite product pick for October.
About SensiClear –
www.SensiClear.com
SensiClear Acne Treatment System consists of three easy to use products: a purifying cleanser, a balancing toner and the revolutionary blemish-free treatment lotion featuring the exclusive patented ingredient Retextra.
About Mission Scientific, Inc.
Mission Scientific Skincare is venture backed and headquartered in Menlo Park, CA. The company is dedicated to developing leading edge skin care solutions utilizing the latest patented technologies.
###
Contact
SensiClear
Kami Wong
866-475-6337
www.SensiClear.com

Contact