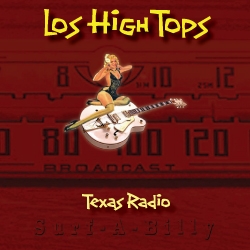 Santa Cruz, CA, October 31, 2008 --(
PR.com
)-- Acclaimed Surfabilly band, Los High Tops, released "Texas Radio," their first full-length CD, published by Nervous Music America. "Texas Radio" features an engaging mix of originals that draw from the diversity of Americana Roots music. Hicks With Sticks, California's authority on Rockabilly and Twang music said this about the opening track "Texas Radio;"
"The title rockabilly track literally jumps out of the speakers. 'I saw my baby's note today in pieces on the floor...' Yep, looks like she's been lost to Texas radio. This song ticks along through some intricate guitar work, including harmonics. Guitar harmonics in a rockabilly song? Yes, Los High Tops are not just doing this as a three-chords and cloud of dust band."
"Texas Radio" was produced in association with Nervous Records of England (UK) and mastered by Neil Strauch at Engine Studios, Chicago, Illinois. Tracking was accomplished at 4 dB Sound, Morgan Hill, California.
The Hicks With Sticks review further states;
"The opening three tracks are all rockabilly songs with flourishes that keep them from being "just rockabilly." The fourth, "Hotwire," is a surf instrumental for those of us who are tired of surf instrumentals because it's mercifully not a Dick Dale or Ventures rehash; it clocks in at a mere 1:34 but is so rich that it stands up to repeated listenings, a trait that can escape 99% of surf instrumentals."
Los High Tops gained national recognition performing on Hotwire.com's innovative series of television commercials that enjoyed heavy rotation.
Airplay credits for Los High Tops music include; KPIG, KRSH, KKUP and KFJC. The band plays primarily in Northern California, including the Gilroy Garlic Festival, indie clubs like San Jose's Blank Club, San Francisco's DNA Lounge and Oakland's Uptown Night Club, and frequently performs at festivals and car shows. Los High Tops has performed at the Viva Las Vegas #5 Rockabilly Hall of Fame show and at the Rock and Roll Hall of Fame.
Title: Texas Radio
Artist: Los High Tops
Tracks: 12
TRT: 33:35
UPC: 707541055796
Surfabilly is rooted in the Americana music camp, juxtaposing Rockabilly, instrumental Surf and Jump Blues. The sound evokes early Rock and Roll - when Country first mixed with Blues, R&B, Hillbilly, and other uniquely American music styles.
Los High Tops on the web:
www.cdbaby.com/cd/loshightops
www.myspace.com/loshightops
www.loshightops.com
Contact:
Tony Tissot
tony@tissot.net
(408) 569 5942
Photographs (restriction-free) available.
Preview tracks available for the trade.
###