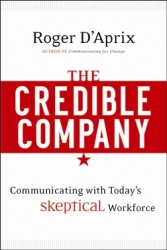 Rochester, NY, November 07, 2008 --(
PR.com
)-- At a time when huge banks and other institutional lenders are struggling to survive in the midst of today's turbulent financial crisis, with Wall Street investors searching for reasons to feel confident about the future and companies casting an anxious eye at the threatening clouds of recession, a critical question is how to effectively communicate with an alarmed, angry and skeptical workforce.
ROI Communication Vice President Roger D'Aprix's new book, "The Credible Company: Communicating with Today's Skeptical Workforce," is being released today by San Francisco publisher Jossey-Bass, A Wiley Imprint.
The premise of the book is that today's corporate organizations are undergoing revolutionary change – change that has turned their relationship with their employees upside down. With the onset of widespread downsizing, outsourcing, corporate reorganizations and other transformations, employees in every company want to know "what's going to happen to me?" And those employees are increasingly skeptical, if not cynical, about the communication they receive at work. Company leaders need to recognize the change in the employee/employer relationship in which talented and knowledgeable workers have become the very means of doing business in the Information Age.
In The Credible Company, D'Aprix provides a logical and tested methodology to inform and engage skeptical employees in a time of turbulent change. His prescription includes a discussion of how information should be handled, the communication needs of the workforce, the power of face-to-face communication, the necessity of openness, why employee research is critical, the impact of the marketplace and today's market forces on companies and the need for a clear, compelling strategy.
Milt Moskowitz, the co-author of Fortune's "100 Best Companies to Work For" list says, "Every CEO in the land should read this book and act on the prescriptions offered to help employees find greater meaning in their work. And surprise – by doing so they will make their workplaces more productive and honest."
About the Author
Roger D'Aprix is an internationally known communication consultant, lecturer and author who has assisted scores of Fortune 500 companies in developing their communication strategies and redesigning their communication training. He is generally regarded as one of the leading-edge thinkers in the formulation of communication strategy and practice for contemporary organizations, and in 1998 IABC named him 'one of the most influential thinkers in the communication profession in the last 25 years.'
Presently, he is vice president and advisory board member of ROI Communication, a Silicon Valley based consultancy that specializes in internal communication strategy and practice for large organizations.
Roger has written six books on employee communication, including his best-selling "Communicating for Change: Connecting the Workplace with the Marketplace" published by Jossey-Bass. Roger is also a member of the advisory board of the UK publication Strategic Communication Management and is a monthly columnist for the Ragan Report. He resides in Rochester, New York.
###