Small Businesses Can Thrive in Hard Times with Techniques in New Book on Getting Free Publicity
This book by a veteran business journalist tells business owners how to get free publicity in the media.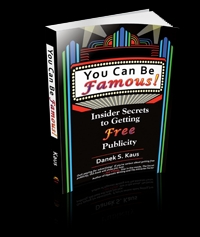 Mountain View, CA, November 07, 2008 --(
PR.com
)-- A bad economy means small businesses have less money to spend on marketing their products and services -- just when they need to do more of it.
The new book, "You Can Be Famous! Insider Secrets to Getting Free Publicity," teaches small business owners, professionals and others how to get stories about them and their business in newspapers, magazines, TV and radio shows and the Internet.
"Every small business should use these free publicity techniques, even in good times," said author Danek S. Kaus. "In bad times, they must use them."
He is the president of Silicon Valley-based LightSound Ventures, Inc., a media and communications management company.
According to Kaus, publicity has more credibility than paid advertising. "What would impress a potential client or customer more, an ad that you bought or an article about you in USA Today?"
Some of the secrets Kaus reveals are:
The 10-second rule
How to become a media darling
How to talk to journalists
What you should (almost} never say to a journalist
The two best ways to get "ink"
How to do a national publicity tour without leaving home
How to get on TV talk shows
How to get on Oprah
TV interview Tips from the Seinfeld TV show dialogue coach
and much more
The book also contains a Question & Answer chapter with working journalists that reveals how they like to be approached and what turns them off. "This chapter takes you inside the minds of journalists," Kaus said.
"You Can Be Famous! Insider Secrets to Getting Free Publicity" has endorsements from best-seling business authors, including marketing guru Joe Vitale, one of the stars of the movie, "The Secret," and Fortune 500 consultant Malcolm Kushner, author of "Public Speaking for Dummies" and "Presentations for Dummies."
Kaus is a veteran journalist and publicist. "I wrote this book because there are so many people that deserve free publicity but don't know the proper ways to go about getting it. This book will show them how."
To learn more, visit
http://youcanbefamousbook.com
or write Kaus for a free consultation at dan@yourpowerpublicity.com
###
Contact
Danek S. Kaus
650-948-4725
http://yourpowerpublicity.com
dan@yourpowerpublicity.com

Contact