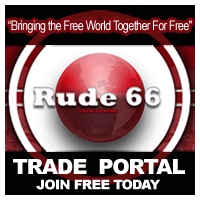 Phoenix, AZ, November 10, 2008 --(
PR.com
)-- Rude66.com now offers two levels of membership to promote your trade leads. They still have the Free membership "Bronze Level" but now they have revealed the new paid level the "ProGold" membership.
At only $20.00 per year this is a tremendous value for a business to get the word out about their products and services to the international import and export community.
Rude66.com
is an advertisement free simple to use web site that has over 3400 categories to post buy and sell trade leads, create your company profile and product catalog.
For a limited time Rude66.com is offering a great sign up promotion. When you join Rude66 as a ProGold member $10.00 of your fee will be applied to a customized Google AdWords campaign with the traffic linking in directly to the your products or company profile based on your keywords. This could mean hundreds of visitors linking directly to your posts.
This is a Rude66.com exclusive no other trade leads portal buys Google AdWords for you to link to your product, service or trade lead.
Rude66 has members from China, India and Europe with over 90 countries represented show them what you have to offer.
Your B2B trade leads will been seen at Rude66.com.
###