Give the Gift of Safety This Holiday Season: Keep Your Loved Ones Safe Year Round with LockSAF
LockSAF, a VMR Capital Company, is a manufacturer of quality biometric safes especially designed for securing firearms and other valuable yet allowing fast and reliable access. The LockSAF PBS-001 is a new product and will make a great gift for any home or family member that owns a handgun or other valuables that require security and peace of mind from unwanted curiosity.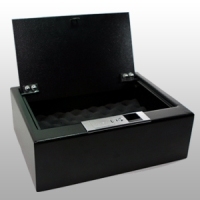 New York, NY, November 11, 2008 --(
PR.com
)-- In case you haven't yet discovered the perfect gift for your firearm-bearing father, brother or husband, or for the woman in your life who just can't get enough jewelry, your answer has just arrived in a 9 gauge steel box.
The LockSAF PBS-001 is designed to protect and give quick access to firearms, jewelry and other valuables. Easy to program and use, it takes one press of a button and a programmed fingerprint to open. Up to 10 fingerprints can be programmed and even if the battery runs out, the fingerprints will still be there when you replace the battery. Four pilot holes in the bottom panel make it easy to mount inside a drawer, a wall, or to any flat surface. This added feature secures the safe and helps keep it out of harm's way or from unwanted curiosity.
Although hardware is not provided, the unit will take any bolt up to 10mm that can easily be purchased at your local hardware store. Bolt length is dependent on the mounting surface. Additionally, the flip top provides easy access without being hindered by an enclosed space. The interior dimensions will allow storage for items up to 12 inches or 30 cm in length. The PBS-001 fingerprint recognition window is located on the front panel of the safe. Each unit requires and is provided with a standard 9V battery that is located within the same panel under an easy access cover; the units have a 2 second access with less than .01% fail rate.
With LockSAF, there won't be any 're-gifting' as all LockSAF products come with a 30 day customer guarantee and 1 year limited warranty. If the recipient is dissatisfied at all within the first 30 days, they can return the safe and receive their money back. Every PBS-001 is guaranteed against manufacturing defects for one full year.
In today's world where we know so much can go awry even with the best intentions, LockSAF will give you security, peace of mind, and safety; helping protect you, your loved ones, and your prized possessions. What more could you ask for this holiday season?
Safeguard your life, safeguard your rights.
About LockSAF
LockSAF is an innovative way to store your personal firearms and valuables safely. Unlike common lockboxes with conventional locking mechanisms, LockSAF utilizes the latest biometrics technology to provide foolproof security and convenient access at the same time. Biometric technology is being used every day as a primary security measure. Fingerprint recognition is highly regarded as an accurate means of identification because every human fingerprint is unique. The biometric locking system uses this fact along with advanced technology to only allow access to authorized individuals. For more information, visit
www.LockSAF.com
.
###
Contact
LockSAF - A VMR Capital Company
Richard Nguyen
8775685625
www.LockSAF.com

Contact