Ecycle IT, Inc. of Minneapolis Launches Free Nationwide Consumer Electronics Recycling Program, www.RecycleItAmerica.com
RecycleItAmerica.com is a nationwide free to the consumer recycling program that provides postage paid labels and monetary rewards for computers, cell phones and music players. Digital cameras, camcorders, GPS units and gaming systems to be added soon.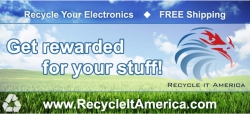 Minneapolis, MN, November 20, 2008 --(
PR.com
)-- Ecycle IT, Inc. launches nationwide electronics recycling program with their easy to use website www.recycleitamerica.com Consumers can print out a postage paid label from the site to safely recycle old PC's (desktops with or without CRT monitors), laptops, cell phones, music players and LCD monitors.
RecycleItAmerica.com provides a simple, safe, and smart solution to recycling electronics. Consumers do not need to worry about the safety of their data. For computers, all hard drives are erased and completely rewritten, erased again and rewritten again, then erased one final time so that data retrieval is virtually impossible. For phones, the data removal process includes a complete erasure of all numbers, contacts, data files, etc... and the phone is restored to its original settings. Any SIM cards received are removed and destroyed.
The website also tells the user if their item has value. The user has the option to receive a prepaid Visa card (which can be used anywhere Visa debit cards are accepted) for the value of the item or donate that value to Hope For The City a 501(c)3 non-profit that serves people in need.
###
E-cycle It, Inc. is a Minnesota based corporation that recycles electronics from Corporate America, provides data destruction services, equipment refurbishing and remarketing.
Contact
Ecycle IT, Inc.
Rob Sandom
612-483-3500

Contact