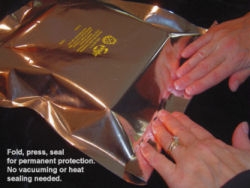 Braintree, MA, November 25, 2008 --(
PR.com
)-- Due to material advances, a new Map Bag Closure system using adhesives is now being offered on a dry pack barrier bag called RIBS MVTR. (This is similar in design to the waterproof document pouches used by campers and other travelers.) RIBS MVTR eliminates the need for vacuuming the air out of the bag. Bag vacuuming requires expensive equipment to operate and maintain and is more time consuming than folding up the end and sealing the adhesive strip.
This is only possible because the inside layer of RIBS MVTR is an Intercept Technology™ product; RIBS MVTR is a brother product to the better known Static Intercept®. All the Intercept lines basically work the same way: they cleanse the atmosphere inside the sealed bag or pouch and keep it that way. Any of the damaging corrosive gases will be sacrificially neutralized by Intercept's reactive "backbone". RIBS MVTR works well with desiccant, it is a structurally tight material, and with the Map Bag Closure, it makes for a good moisture barrier, all with Intercept protection closest to your well-earned product.
Intercept Technology™ helps you maintain perfection.
For more information and product availability, please go to:
www.libertypackaging.com
###