Start a New Career. Teach English Abroad and Earn Your TEFL Certification with TEFL Institute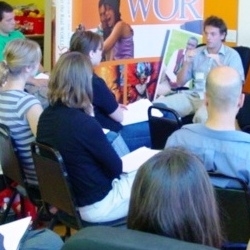 Chicago, IL, December 15, 2008 --(
PR.com
)-- TEFL Institute is conducting an information session on Teaching English Abroad. CNN has rated English teaching abroad in its Top Ten list of fastest growing jobs. Each month thousands of native-English speakers are needed to teach Conversational English abroad. This information session is open to the public and geared to current college students, recent college graduates, retirees, and career changers who seek immediate employment and the opportunity to travel the world.
The session is held on:
Saturday, January 17, 2009
10am – 12pm
TEFL Institute
1906 W. Irving Park Road
Chicago, IL 60613
For more information visit their website at:
http://www.teflinstitute.com
.
TEFL Institute is celebrating more than four years of serving the Chicago community with their TEFL Certification courses that prepare you to teach English abroad. About 800 students from Chicago and across the United States enroll in our onsite and online courses each year. They are Chicago's largest TEFL Certification organization and one of the largest TEFL training organizations in North America.
TEFL Institute offers training classes in Chicago, online and in over 20 other international locations. The classes are taught by Masters-level ESL instructors who have lived and taught English abroad for at least two years.
TEFL Institute provides each student with an internationally recognized TEFL Certificate, pre-departure support and job placement assistance. TEFL Institute's successful approach to English as a Foreign Language training makes their graduates in high demand across the world (below are few examples):
Korea: Earn $2000 to $2500 per month, free housing, roundtrip reimbursed airfare, medical insurance and more. Most teachers can expect to save about 50% of their monthly salary
China: Earn more than enough to cover the cost of living with about salaries between $500 to $1000 per month, free housing, roundtrip reimbursed airfare, medical insurance, and free Chinese lessons
Spain, France, Italy, and Germany: Earn hourly wages of $14USD to $23USD to teach English
Brazil: Earn about $850 per month and free housing
There are thousands of English teaching jobs abroad. You can earn valuable international work experience while learning a new language. Teaching English abroad provides you with the opportunity to:
· Gain international work experience
· Boost your resume by acquiring foreign language skills
· Immerse yourself in a new culture and embark on an adventure to see the world
· Make new friends, business contacts, and associates
· Get paid while you explore the world
· Lifelong training that will give you employment for years to come abroad and in the USA
· Internationally recognized TEFL Certificate from a US based company
· And more…
###
Contact
TEFL Institute
Van Giles
(773) 880-5141
www.teflinstitute.com

Contact
Multimedia
Brochure describing TEFL Institute training courses and explains the world of teaching English abroad.