New Film to Focus on Personal Side of American Movie Star and International Cinema Icon Jean Seberg
Documentary film will feature exclusive interviews, photographs, and home-movie footage from Seberg's family collection.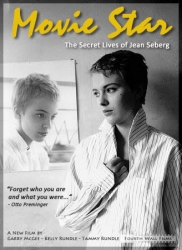 Moline, IL, December 16, 2008 --(
PR.com
)-- A new documentary feature film about American-born screen actress Jean Seberg will focus on the private side of the Marshalltown, Iowa native as well as examining her very public American and international film career and civil rights era political activism.
Award-winning filmmakers Kelly and Tammy Rundle of Fourth Wall Films will team with Iowa documentary filmmaker and writer Garry McGee. McGee, the author of "Jean Seberg: Breathless", gathered exclusive on-camera interviews, vintage photographs, home movie footage, and other archival material from Seberg's family.
"They have routinely turned down interview requests over the years, including invitations from national television news personalities and programs," said producer Kelly Rundle. "Other documentaries have told a portion of Jean's story, but thanks to Garry's interviews and research this film will shed light on the person behind the celebrity."
"Movie Star: The Secret Lives of Jean Seberg" (the film's working title) is set for release by Fourth Wall Films in the fall of 2009.
"We are pleased to be working with Garry," said producer Tammy Rundle. "His insights into Jean's early years and family life will dispel some of the myths that cloud the reality of her life."
Born in Marshalltown, Iowa in November 13, 1938, Jean Seberg declared at an early age her intention to become a movie star. Director Otto Preminger plucked her from obscurity in a nation-wide search and cast her as Joan of Arc in "Saint Joan".
While her early American films were poorly received, Seberg created a successful European film career where she is best known as the star of Jean-Luc Godard's ground-breaking French New Wave film "Breathless" (À bout de souffle).
""Movie Star: The Secret Lives of Jean Seberg" will contain the first and only interview with Jean's sister Mary Ann, her high school drama coach Carol Hollingsworth, former "Marshalltown Times-Republican" editor Warren Robeson, and childhood best friend Lynda Haupert," said producer Garry McGee.
Additional interviews from France include co-star Mylène Demongeot, producer Marc Simenon, director Nicolas Gessner, and Jean's first husband Francoiş Moreuil.
The documentary will examine Jean's beginnings in small-town Iowa, her career ups and downs, her marriages, and her ongoing humanitarian and social justice efforts. Seberg was both acclaimed international actress ("Lilith," "Dead of Summer") and popular American star (Paint Your Wagon, Airport).
Her impressive list of American movie co-stars includes Sir John Gielgud, Sean Connery, Clint Eastwood, Warren Beatty, Joanne Woodward, Deborah Kerr, and Ella Fitzgerald. In Europe she shared the screen with Jean-Paul Belmondo, Maurice Ronet, Michel Piccoli, Isabelle Huppert, Micheline Presle, and Danielle Darrieux.
In the midst of the turbulent civil rights era in America, Jean's political activism caught the attention of J. Edgar Hoover. When the F.B.I. attempted to discredit her by planting a false story about her pregnancy in national publications, Jean became so distraught that her baby was born prematurely and died.
Changed by the tragedy, she began a downward spiral that led to her untimely death in 1979 in Paris at the age of 40. Ruled a probable suicide by French authorities, questions linger among her close friends regarding the possibility of foul play.
The Rundles have previously produced "Lost Nation: The Ioway" and "Villisca: Living with a Mystery". They are currently in production on "Country School: One Room – One Nation".
Garry McGee previously co-produced "The Last Wright", a documentary about the last remaining Frank Lloyd Wright hotel in Mason City, Iowa. In addition to "Jean Seberg: Breathless", he is also the co-author of "Neutralized: The F.B.I. vs Jean Seberg," "Doris Day: Sentimental Journey," and other entertainment industry-related titles.
Fourth Wall Films, a film and video production company owned by Kelly and Tammy Rundle, was formerly located in Los Angeles, California. The husband and wife duo is now based in Moline, Illinois where they focus on Midwestern historical documentaries.
For more information, visit www.FourthWallFilms.com or www.JeanSebergMovie.com.
###
Contact
Fourth Wall Films
Kelly Rundle, Producer-Director
309-797-0544
www.FourthWallFilms.com

Contact