Dawna Lee Heising of "Eye on Entertainment" Interviews Internationally Renowned Educator Dr. Jack Fujimoto
Dr. Fujimoto Was the First Mainland United States Japanese American College President in 1977.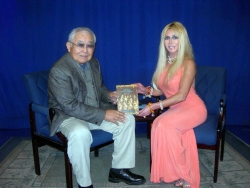 Santa Monica, CA, December 30, 2008 --(
PR.com
)-- Dawna Lee Heising, "Eye on Entertainment" executive producer and host, announced that the show's latest segment contains an interview with Dr. Jack Fujimoto, noted educator and lecturer. Dr. Fujimoto became the first Japanese American college president in the mainland United States in 1977 when he was appointed president of Sacramento City College. While working at Sacramento City College, he also served as Chairman of the Board of Trustees of the Institute of Buddhist Studies in Berkeley, California for 12 years. He also permitted the first gay theatre production in the conservative Sacramento area and staged the first Asian American tennis tournament.
Dr. Fujimoto was raised in California in the northern San Diego town of Encinitas. He is the eldest of the six children of Morizo and Emi Fujimoto. During World War II, the family was relocated and interred in Poston, Arizona, along the banks of the Colorado River. After the war, the family settled again in Encinitas, where Morizo and Emi had later established a highly successful carnation farm. Their six children included Jack, Fumie, Yoko, Takashi, Judy and Eiko.
Dr. Fujimoto continued his schooling in Encinitas after the war at San Dieguito High School. Later, he volunteered to serve in the United States Army where he was trained as a counterintelligence agent and served in that capacity during the Korean conflict of 1950.
Dr. Fujimoto graduated from UCLA with a B.S, M.B.A. and received his Ph.D. in Education with a cognate in Accounting from UCLA in 1970. He has served as the president of five California colleges including Sacramento City College, Los Angeles Mission, West LA, LA Pierce, and was most recently the interim superintendent/president of Imperial Valley College.
He has served as president of the Japanese Institute of Sawtelle, the West Los Angeles Buddhist Temple and the Japanese American Historical Society. For his efforts on behalf of the Japanese-American community and to reward his successful career in education, Dr. Fujimoto was named a Nisei Week Pioneer in their 2003 parade. During the past three years, he has also lectured to students at two Japanese universities, Kagoshima Junshin College and Kyushu Sangyo University.
In June 2008, Jack and Grace drove 4,000 miles from Los Angeles to Bismarck, North Dakota, visiting several important sites: concentration camp exhibits of Japanese Americans in Minidoka, Idaho, and Heart Mountain, Wyoming, Teddy Roosevelt's Badlands, Lewis & Clark's Pompey Pillar, and the Fort Lincoln Prison holding his cousins during World War II. Jack was able to confirm with his cousins in Kagoshima, Japan, that they spent the war years at Fort Lincoln which presently houses an Indian vocational college.
Dr. Fujimoto met his wife of 52 years, Grace, at her father's store in West Los Angeles Sawtelle's Japantown. He recently returned to his roots by developing a book on the history of the area, "Sawtelle: West Los Angeles' Japantown." They have four children: Crystal; Randy; Jolie; and Maya.
Eye on Entertainment
"Eye on Entertainment" (EOE) is a high-energy, high-impact television program focusing on extraordinary individuals and the entertainment industry. The show, aired on Time Warner Cable in Los Angeles and Orange Counties, features powerhouse interviews with successful people in all walks of life, exploring the traits that they have in common, and covers entertainment events and awards shows. Dawna Lee Heising is the executive producer and host of EOE. Dawna is also Ms. World 2008 and is a long-standing member of the Screen Actors Guild (SAG). EOE's producer and cinematographer is David McNeil, a Mensan with a background including 10 years at United Artists and professional photography. The show is directed by John Cox, a professor in the film and video departments at Orange Coast and Golden West Colleges.
###
Contact
Eye on Entertainment
Dawna Lee Heising
(714) 390-7122
www.EyeonEntertainment.tv

Contact