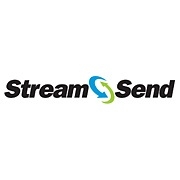 Sacramento, CA, January 21, 2009 --(
PR.com
)--
StreamSend
, a leading
email marketing
solutions provider, today introduced multiple sign-up forms for its customers. Previously, the StreamSend application allowed for the creation of only one sign-up form. The new multiple forms enable StreamSend customers to quickly set up and deploy several different lead generation options with varying field requirements.
"In today's tough economic climate, businesses are pushed to be more effective and efficient than ever before," says Dan Forootan, President & CEO of StreamSend. "The addition of these forms makes it easier for our customers to collect the qualified leads they need to grow their businesses."
In addition to helping build leads, StreamSend multiple forms are built to help customers easily store and manage the lists generated from various sources. Forms features include:
• Easy creation of sign-up and lead generation forms
• Segmentation of captured data
• Selection of different data capture fields and list requirements for each form
• Customizable HTML options for each form
• Tools for easy website integration
• Single or double opt-in sign up options
• Unique confirmation messages
All companies can benefit from using sign up forms. For example, a company may collect customer or lead information from different sources – on its website, by providing an educational whitepaper or hosting a webinar. Each of these sources could have unique requirements for the customer information to be collected, separate automated responses (i.e., triggers), and the need to manage the incoming information differently. With StreamSend, email marketers can now do this quickly and easily, as well as effectively manage the communications with those individuals.
About StreamSend
The StreamSend Email Marketing Service is the most comprehensive and cost-effective permission-based e-mail marketing suite available, used by marketers, entrepreneurs, online retailers and resellers around the world. StreamSend offers a number of industry-leading, standard pricing plans and also has a strong email marketing reseller program and an affiliate program. StreamSend is the flagship product of EZ Publishing, Inc., founded in 1998.
###