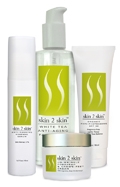 Palm Springs, CA, January 30, 2009 --(
PR.com
)-- Touched by the continued philanthropic efforts of celebrities and VIP Guests, Skin 2 Skin Care™, a collection of cutting-edge, anti-aging products, will donate special skin care "thank you" baskets to this year's honored recipients, presenters and hostesses at the 15th Annual Steve Chase Humanitarian Awards Gala.
The Steve Chase Humanitarian Awards Gala will be held on Saturday, February 21, 2009 at the Palm Springs Convention Center in Palm Springs, California and is one of the largest AIDS charity fundraisers. Celebrities and VIP guests confirmed to be in attendance at the 15th annual gala, include: Suzanne Somers, Barry Manilow, Bebe Neuwirth, Kristin Chenoweth, Morgan Fairchild, Linda Gray, Donna Mills and Diahann Carroll.
"We are honored to provide the participants with these special gift baskets," said Ken Simpson, President of Skin 2 Skin Care. "Their beauty shines through their commitment to this worthy cause, just as our products help enhance outer beauty."
Skin 2 Skin Care products featured in the basket include:
White Tea Ant-Aging Face Wash
Oatmeal & Pomegranate Face Scrub
White Tea Anti-Aging Face Mask
Anti-Aging Revitalizing Eye Gel
Aging Intervention Cream
Anti-Wrinkle Night Recovery
Anti-Sagging Renewal Serum
Un-Wrinkle Forehead & Crow's-Feet
For more information on Skin 2 Skin Care, visit www.skin2skincare.com.
About Skin 2 Skin™:
Sharing the future of advanced, anti-aging skin care technology, Skin 2 Skin Care products are specifically designed using only the finest all-natural, certified organic extracts, anti-aging peptides and dermatologist-recommended Alpha Lipoic Acid. Each product in the collection is uses paraben-free, replenishable green ingredients to repair existing skin damage and prevent future damage, providing an effective alternative to invasive and costly procedures.
Contact: Jeanine Boiko / Katie Heelon
J9 Public Relations; 516.557.2695
###