Sheet Music Leader Announces Two New Distribution Centers
J.W. Pepper, the largest sheet music retailer in the world, is opening two new warehouse distribution facilities to support the company's order fulfillment needs.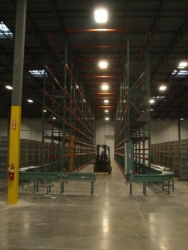 Paoli, PA, February 05, 2009 --(
PR.com
)-- J.W. Pepper & Son, Inc., the world's leader in sheet music retail, has announced the construction of two new distribution centers to service order fulfillment needs for their retail and print operations. Pepper's strong commitment to customer service and speed of order fulfillment are the core of its strength in the sheet music industry. Historically, the company has distributed product through 15 locations. The two new distribution centers will allow order fulfillment operations to be focused in the two new facilities, allowing remaining locations to focus on regional marketing opportunities.
According to Glenn Burtch, President of J.W. Pepper, "these new facilities will make use of current best fulfillment practices, taking advantage of advancements in today's warehousing and shipping technology." The new facilities will be located in Atlanta and Salt Lake City, cities in which Pepper currently has a retail presence. The building project is being overseen by Bret Rhoades, Vice-President of Operations.
The Atlanta Distribution Center, which will open in May 2009, will be managed by Kyle Badgero, former manager of the Grand Rapids Pepper location, assisted by be Ron Cunningham.
The Salt Lake City Distribution Center, which is slated to open in March of 2009, will be managed by Rich Delong, former manager of Pepper's Detroit location, assisted by Ed Chillington.
Regional Marketing Centers will remain an active part of Pepper's business, as regional marketing is an important component of its overall marketing plan. According to Lee Paynter, Chief Operating Officer, "Pepper's Regional Marketing Centers each have an important role in connecting our people with current and potential customers. It's the kind of connection we have always valued and will continue to value at Pepper."
The regional marketing centers will be updated to enhance the in-store experience for customers seeking music and will house the regional marketing staff. All existing Pepper locations will continue to serve local musicians, with the exception of the Detroit branch, whose functions are being merged with the Grand Rapids location.
###
Contact
J.W. Pepper & Son, Inc.
Kathy Fernandes
610-648-0500
www.jwpepper.com

Contact