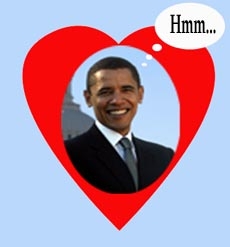 Denver, CO, February 08, 2009 --(
PR.com
)-- For all of you folks out there hitting the bars, coffee shops and personal ads within a week of Valentine's Day, Denver Colorado author J.J. Jones has some advice from his book blog about being single, ABCs of Singleship, "Think like Obama."
"All yea singles lend me your ears and hearts for just a moment and let me let you in on a secret or two from The Man, his O-ness, the Prez himself," Jones writes.
"First, if you are single, eat, drink and be merry with your friends on Valentine's Day. Surround yourself with good pals. It will soothe you. Obama's Whitehouse is this way you know, they are the best medicine for him and they keep him real (my guess) and for this day too, no would-be wooers and or one night lovers. Be real."
"Try a mutt. If you must have a date for V- Day, your date should not meet a checklist. Date out of your comfort zone." Jones writes, "Obama went against conventional wisdom."
"Lastly, I found marriage-minded men have trouble making the first move." ABC's of Singleship is available on Amazon.com.
Jones writes, "There is nothing wrong with asking for a kiss or a hug, gals. It is not that men have been house-trained, as it were, into being politically correct choir boys. It is more to the fact that to unromantic guys a kiss or a hug is not going to change the world for us or make the day brighter the way it does for most of our gals.
Jones write that that lack of romance is the biggest issue single women face. Many would say most men they date are all concerned first with the sexual component of a relationship and not the friendship or romantic part.
"Most of the men, the average guys I know, would say doing something that expresses loyalty, real friendship-style, guy-style loyalty, is the best way to keep them the coming back without playing the "sex-card."
Jones' book blog is:
http://singleship.blogspot.com/
J.J. Jones Author, ABC's of Singleship (Amazon.com)
His political/comment can be found at
http://writerswheel.blogspot.com/
###