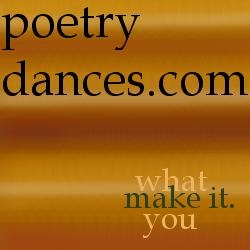 Busan, Korea, South, February 10, 2009 --(
PR.com
)-- New poems are discovered and linked to on a continuous basis by Poetrydances.com during its visits to other poetry sites, and blogs across the Internet. Many writers also submit poems directly to the Site. A proportion of the writers behind the poems are listed as Favorite Writers on the Site.
Interest in the Site and the idea behind it has been steadily growing within the online poetry community. Recently, more people than ever have been coming forward to give voice to their opinions:
"Poetrydances.com has been an amazing resource for the poetry community online. Its the site to search when looking for fantastic poetry."
Sara Pufahl, Blog Manager at poetswhoblog.blogspot.com
"As a relatively new poet, I was flattered when Poetry Dances chose to feature my poems on their site, giving my work more exposure by bringing more readers, which in turn gives me support and encouragement. Since Anthony French started the website, it has continued to grow steadily with an impressive and varied collection of interesting poetry. My thanks and appreciation to Poetry Dances for giving a voice to relatively unknown poets".
Beatrice van de Vis http://www.owlnight.com
"There are countless sites where writers and poets exhibit their art. What I find extremely unique about your site, is that you search out talent from all these sites. Any writer, who says they are not honored to be chosen by your site, has written his or her first fictional piece. You also give writers a chance to read the many talented, but unnoticed works your site has selected. You deserve all the admiration, and respect your site is receiving for the difficult and time consuming efforts you have put into your site. Your hard work and dedication to all writers and poets are deeply appreciated."
Ray Neighbor (Rain) www.my.com/109879404
"Having a poem of mine selected to appear on the Poetry Dances website has been a humbling experience, such is the caliber of the work it represents. There's no shortage of poetry websites in cyberspace but there's a lot of weeding out to do before landing on a quality one. Within PoetryDances.com you'll find a huge variety of poetry – every style; every subject. What you won't find is mediocrity. - It's also your 'one-stop-shop' for poetry resources, acting as a central warehouse that provides links to worthwhile poetry blogs and websites the world over. You can submit your own work or, if you have your own blog or website, you can ask to be added to the Reading List, becoming part of a 'writers helping writers' network you can be proud of. - In the past, I've wasted a lot of time searching the web, trawling through one disappointing site after another, looking for resources that met my stringent standards. I stopped at PoetryDances.com–and stayed!"
Melinda Kahler http://www.writingroom.com/shakatoah
"Many thanks to Poetrydances.com for its support and encouragement of poets around the world. Your efforts to single out aspiring word-builders should be commended. I would like to take this opportunity to extend my appreciation for the words of praise that have been sent to poets such as myself. "
- Emily Burns http://www.myspace.com/emilyburns0917
"I would like to say what a wonderful opportunity Poetrydances.com offers to poets, allowing their poetry to be enjoyed around the world. It feels good to be able to share my words and thoughts, to spread my love of poetry...and Poetrydances.com is the perfect venue. Thank you".
- David Hixon
"It's like my favorite little coffee shop where I can read some of the great poems hidden away in the nooks and crannies of the Internet over a cup of coffee!"-
Mama Madhaven http://mamta-glimpsesofme.blogspot.com/
"Poetrydances.com is a great place to find amazing poems. The Poetry dances team is very helpful and friendly. I would recommend them to anyone wanting to publish or just read great poetry".
Kathrine Hill http://www.writingroom.com/khill
"I see things are moving along quite well on your wonderful site. So much positive energy surely is continuing to reap rewards. How can it not? Poetry Dances is a class act and a gift to all who search the web looking for words to inspire them . . . especially in these times!" -
Joanne Cucinello http://icthebridge-moonspirit.blogspot.com
"Writing poetry has been a natural impulse for me since I could write. I write my diary in verse, I keep a notebook with me at all times, ready for any line, any phrase that enters my head. Reading poetry came later, but is now such a huge part of my life, I can't imagine being without it. I use it to convey all of my emotions and many of my experiences and it gives me real pleasure and release. - It is a time-consuming business, getting your poetry out there to as large an audience as possible, so what a great idea Poetrydances.com is, searching a range of online poetry sites and selecting a range of poetry, which is inspiring and impressive. It has the potential to create an impact on the literary world and for the poets involved, connecting those with a passion for poetry." –
Anya Fay http://www.writingroom.com/Anyafay
"I've enjoyed writing for years now, but since I became a member of the WritingRoom.com, it has enhanced my confidence as well as encouraged me to continue with my life long dream. Poetrydances.com is a new site to me, but I am so glad I was referred to it. After reviewing the site, I read some of the most beautiful poetry. I am truly inspired by the opportunity that the WritingRoom as well as Poetry Dances has given me as a poet to share my writing. I appreciate both sites for all that they do for the poetry world. I am sure that there has been and will be great writers discovered with the opportunities that the Writingroom and Poetry dances have given! Thanks you guys!" -Debbie Campbell http://www.writingroom.com/deb
Due to elements of the Site's design, it is returned on page One for searches made on Yahoo.com or Google.com, for many poetry related search criteria. This offers the potential of increased exposure for the writers and work listed on the Site.
These search criteria include: Great poetry website, Great poetry site and Read great poetry, among many others. A full list of the searches that return the Poetrydances.com on page One of Yahoo.com or Google.com are shown on the Site itself.
Over the last three months Poetrydances.com has been building on its recent affiliation with WritingRoom.com, a diverse and resource filled site for a great many talented writers. Poetrydances.com 'Read Request' buttons have been added to all poems on the WritingRoom.com site, which make it easier for users of the site to submit work for consideration and possible selection by Poetrydances.com. WritingRoom.com poetry contest winners are also now being hosted on the Poetry dances site.
-Lindsay Preston, Creator and CEO of WritingRoom.com recently offered these comments regarding the growing ties between the two sites:
"WritingRoom.com is pleased to have affiliated with Poetrydances.com. PoetryDances.com is a fabulous site made up of the highest quality poets and poetry. We feel the affiliation with such a high caliber site is beneficial, not only for WritingRoom, but for our members who have been and will be featured on the Site."
In other developments Poetrydances.com has been in talks with premier poetry blog resource Poets Who Blog (poetswhoblog.blogspot.com), with a view to including a Read Request button on its site also.
The Poets Who Blog site hosts links to many of the blogs on which poems were originally discovered by Poetrydances.com.
Additionally, Poetrydances.com recently reached agreement with South Africa based Whisperpoetry.com, to offer marketing and promotional support for its book publication and distribution program. A program designed to help often disadvantaged children in Africa.
As mentioned earlier in this release many of the writers on the Site enjoy 'Favorite Writer' status. The last quarter saw nineteen new Favorite Writers created. These writers along with their poems and the sites hosting are as follows:
Shana E. Purves with 'River of Passion' on poetrydances.com
Leanne Hancher (midsummer21) with 'Learning to Breathe' -on writingroom.com
Anya Fay with Willow on writingroom.com
Michele Stephenson (Michele) with 'Pair Of Poets' on writingroom.com
Melinda Kahler (shakatoah) with 'A Lady In Waiting' on writingroom.com
Debbie Campbell (deb) with 'I know You are There' on writingroom.com
Michael Estabrook with 'Smooth and Sweet' on poetrydances.com
Ronald Kilgore with 'Final Hug' on poetrydances.com
Danny F. McMahan with 'Paradise Drizzles' on poetrydances.com
Elijah Hamlin with 'Dreams' on poetrydances.com
Lily T. Bilsland (LTB) with 'Human Swamp Water' on writingroom.com
Jan Teaford (autumnmoon) with 'A Study In Blue' on autumnmoon.wordpress.com
Joe Kruppenbacher (Sojourner) with 'Broken' on writingroom.com
Cody Robinson (NativeLeader777) with 'Moment of Silence' on writingroom.com
Rebecca Derossett (Wannabe) with 'I Am' on writingroom.com
Janie Ruth Ryals with 'Waiting' on writingroom.com
David Angel with 'Of Eternity To Rest' on poetrydances.com
Rick Doerscher with 'Iowa Fields' on poetrydances.com
Jamie Alan Rhines with 'Freedom' on poetrydances.com
As indicated earlier in this release, poetry can also be submitted directly to Poetrydances.com along with links to great poems found by users themselves. Additionally, the Site accepts general read requests, which allow its staff to visit and read the work of specific writers on various poetry sites or blogs across the Internet.
The Site has also recently introduced a 'Poem of The Week' feature.
Poetrydances.com is free to use subject to its disclaimer and terms of use document.
www.poetrydances.com
###