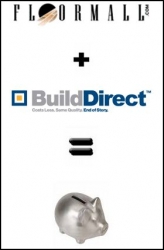 Virginia Beach, VA, February 23, 2009 --(
PR.com
)--
www.floormall.com
It is with great excitement that Floormall.com announces it will now be offering BuildDirect.com flooring products to customers in the residential and commercial markets. Currently, BuildDirect.com deals primarily in pallet and truck load orders. Floormall.com will now be listing those products at affordable prices and fulfilling all under-pallet orders. This strategic alliance between two of the most successful online floor covering businesses illustrates the commitment by both companies to provide consumers more choices in an ever changing market.
"The market is just changing. Customers don't want to spend a month driving to twenty different shops to see who has what. We simplify it for them. Put all the products in one place, give them knowledgeable customer service to answer their questions, and save them money. It only makes sense for the two biggest Internet Flooring Retailers to communicate and be of like minds." – Marc Henderson CEO and founder Floormall.com
The addition of lines like BuildDirect's Yanchi Bamboo and Lamton and Toklo laminates which offer customers an affordable, premium quality laminate flooring add to Floormall.coms' already impressive catalog of products.
"We are very excited about this arrangement with Floormall because consumers who are not able to meet BuildDirect's minimum order requirement now have a place to buy our quality, proprietary brands in smaller quantities." – Jeff Booth President and CEO, BuildDirect.com
In these trying economic times you shouldn't have to sacrifice quality for savings. Visit Floormall.com today to see how you can have both quality and savings on your new floor.
###