Growing Agency a Bright Spot Amid Ad Industry Struggles
Most ad agencies are struggling to keep staff, acquire new clients, as well as trying desperately to retain the ones they have. Yet, Plan B has steadily been growing in all directionsTheir world-class creative experience and instincts, our forward thinking business model of 'full-service, on-demand' and their perfect balance between tradition and technology makes them a valuable marketing partner to clients that want to stay ahead of the curve with their competition. Visit www.thisisplanb.com.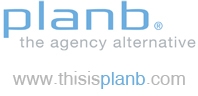 Chicago, IL, March 02, 2009 --(
PR.com
)-- Plan B is thriving as it celebrates its 10-year anniversary.
The story of how three friends left their positions at major Chicago ad agencies to strike out on their own isn't particularly unique. Many small ad shops have found their spark in the frustration of big-agency employees who saw the way their employers operated and dared to think, "We can do it better."
What makes Plan B's founders different, however, is that they were right.
From its beginnings as a three-man startup servicing a stable of small accounts, Plan B has enjoyed impressive success over the past decade, growing into a vibrant 30-person shop that today handles major accounts including Volvo, Tetra Pak, and SIRVA Inc.
Plan B's founders—Ric Van Sickle, Clay Cooper and Don Weaver—built their success on a simple proposition: provide the same kind of top-tier creative and strategic talent found at billion-dollar agencies, delivered with the innovation and responsiveness of an independent shop.
That formula allowed Plan B the flexibility to overlay time-tested advertising principles with the best of the digital revolution. The result is a unique brand of integrated advertising that strikes an ideal balance between advertising tradition and innovative technology.
"We're not beholden to any particular media or methodology," Van Sickle says. "We approach projects with the goal of getting it right for our clients. It's wide open from that point on."
It's an approach that's worked remarkably well, earning praise from clients as diverse as HumanaOne, Wilson Tennis, and Orbitz For Business.
It's also allowed the agency to grow steadily, even as its larger competitors have struggled over the past year. In fact, while other agencies have experienced layoffs, Plan B has actually added staff. And as the agency marks its 10th anniversary in 2009, it stands as an optimistic bright spot in a battered industry.
"I think we're an example of how there's plenty of room in advertising for fresh ideas and innovation," Van Sickle says. "And we're excited to see what the next ten years will bring.
###
Contact
Plan B [the agency alternative]
Patrick Miller
312.222.0303 ext. 237
www.thisisplanb.com
may also contact:
Clay Cooper
Clay@thisisplamb.com

Contact