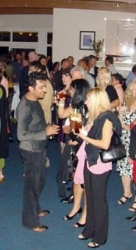 San Francisco, CA, March 02, 2009 --(
PR.com
)-- Romantic Night
March 21, 2009, 8pm
Advance Discount Tickets at
Free Bay Area Singles Online Dating Website www.ProGuildSocial.com
Please enter "PR" for discounted price, without quotes.
Cover at the door $25; Advance tickets, $15 (with coupon code PR)
Golden Gate Yacht Club
1 Yacht Rd., San Francisco 94123
Dance/Mixer for Singles
Hosted by Professionals Guild
Get invited to monthly parties.
A Romantic Bay Area Singles Party in San Francisco w/ Free Parking
Normally, GGYC is members only, but by special arrangements, this San Francisco singles party is open to those with invitations from Professionals Guild. (Members of
www.ProGuildSocial.com
are also welcome to attend.)
Cover at door $25, $15 in advance.
Space is limited to about 300 singles max, so advance tickets are recommend. Advance tickets available at:
http://www.proguildsocial.com
with coupon code "PR" (without quotes)
Sat. March 21, 2009, 8pm to midnight
1 Yacht Rd., San Francisco, 94123
(From Marina Blvd, going toward the Golden Gate Bridge, cross over Divisadero and make a right on Yacht Rd. Go to the end of the Rd. Park in free parking lot leading up to the Yacht Club.)
Come and enjoy a great San Francisco Singles dance party and mixer for singles at a beautiful location by the Bay in San Francisco with plenty of free parking.
To learn more, call 925-888-4392 and visit
http://www.ProGuildSocial.com
The Bay Area singles party features:
* DJ Dancing
* No host bar
* Party Snacks
* Breathtaking views of the Bay
* Romantic Location
* Mixer game to make it easy to meet new people
* Great crowd of friendly singles.
* Optional salsa dance lesson
Expect a huge crowd of about 200 or 300 friendly singles at this Bay Area Singles Party.
Note: Get to Marina Blvd going West, toward Golden Gate Bridge. Cross Divisidero and turn right at Yacht Rd. (not Lyon St. as shown on some Internet maps)
Golden Gate Yacht Club Advanced Tickets Available here.
http://www.proguildsocial.com
(A free online dating website for singles)
Singles photos, videos, blogs, articles, music and more Bay Area singles parties at
http://www.proguildsocial.com
###