BusinesSuites Renews Lease at Hughes Center
With the renewal of its lease at Hughes Center, BusinesSuites sees long-term growth opportunities in Las Vegas.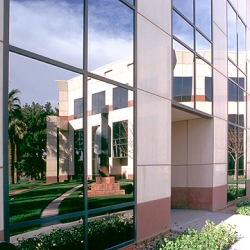 Austin, TX, March 31, 2009 --(
PR.com
)-- To John Jordan, president of BusinesSuites, providing clients at BusinesSuites Hughes Center in Las Vegas, Nevada with professional services, premium space and quality technology is not just business, it's an opportunity.
For seven years, BusinesSuites Hughes Center has provided
Las Vegas executive suites
for a growing number of entrepreneurs as well as local, national and international businesses. With the recent renewal of its lease, BusinesSuites has accepted the opportunity and the challenge of helping new and established companies come—and stay— in Las Vegas.
"These days I see a lot of companies doing business differently," says Tony Click, Vice President of Leasing for Crescent Real Estate Equities, owner of Hughes Center. "BusinesSuites renewing their lease at Hughes Center means more options and more opportunities for companies who want offices in Las Vegas, but need flexible terms."
With flexible agreements ranging from month-to-month, 3 month, 6 month and one year terms, BusinesSuites offers clients the freedom to grow comfortably, effectively, and proactively. From fully furnished executive offices to
Las Vegas virtual office
packages, BusinesSuites empowers companies to plan and maintain viable businesses.
"It's time for business to step in and rebuild the communities we serve," Jordan says. BusinesSuites has restructured pricing in many of its markets to meet the growing challenges of businesses turning from traditional office space and towards the flexibility of shared executive space.
With incentives, expanded services, and dedication, according to Jordan, "BusinesSuites is devoted to helping businesses grow, maintain and succeed."
Renewing the Hughes center lease is just another way BusinesSuites hopes to continue serving the Las Vegas business community.
About BusinesSuites
BusinesSuites provides executive suites and virtual office services in Austin TX, Houston TX, The Woodlands TX, Dallas TX, Las Vegas NV, Baltimore MD, Columbia MD, Owings Mills MD, Richmond VA, Newport News VA, and Fredericksburg VA. Each of its 16 locations provides professionals with turnkey office space, equipped with furniture, phone, internet, a receptionist, conference rooms, cafe with amenities, and office support. Since its founding in 1989, the company's owners, Luci Baines Johnson, Ian J. Turpin and John G. Jordan have developed BusinesSuites into one of the country's leading executive suite operators. Visit www.businessuites.com for more information.
###
Contact
BusinesSuites
John G. Jordan
512-329-1940
www.businessuites.com

Contact