Help for Those Facing a Senior Health Care Crisis
Finally, the most complete website for all facets of finding senior care launches.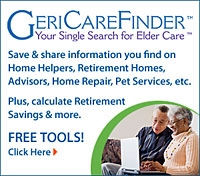 Los Angeles, CA, April 05, 2009 --(
PR.com
)-- With nearly 40 million seniors aged 65+, their Baby Boomer children can now use the internet's GeriCareFinder.com to find care for an aging parent or loved one, even if they live hundreds of miles away.
"A staggering 41% of the 80 million adults aged 45+ are helping care for a living parent with personal aid, financial help, or both" reports GeriCareFinder.com President and Founder, Ron Kustek. "And when you're suddenly faced with the crisis of finding care for a parent in need, it's an overwhelming and time consuming responsibility -- which is why GeriCareFinder.com was created."
Most senior care web sites are single-subject sites, such as only care homes, or only elder law attorneys or only for Medicare or Medicaid issues. People stressed by trying to find elder care often conducted endless web searches across endless single-subject sites, and were further frustrated when they couldn't understand confusing medical terms or the language used by the senior health care industry. These time-crunched people have been screaming for someone to bring it all together.
"GeriCareFinder.com is the first and best at bringing together all types of senior care into one well-designed, functional website as the "Single Search For Senior Care". We have thousands of Care Providers, Advisory Resources, and Product or Service companies to help seniors, all within any US zip code. Plus, our extensive online support tools include a care needs assessment, financial calculators, definitions, articles, FAQs, Helpful Hints & Checklists -- all on one site, so now a person doesn't need to search anywhere else", said Mr. Kustek.
GeriCareFinder.com. is the official website of GeriCareFinder, Inc., which was founded by Lysa and Ron Kustek. While learning how to arrange care for an elderly friend during her illness, Lysa and Ron were overwhelmed, uneducated about the health care industry, and found the internet was of little help when trying to find the best care. GeriCareFinder.com is dedicated to Ron & Lysa's friend Eve Lengyel, and to all who need a fast, easy and comprehensive source to help find care for a parent or aging loved one.
###
Contact
GeriCareFinder, Inc.
Ronald Kustek
323-208-6311
www.GeriCareFinder.com

Contact
Multimedia
Finally, a complete website for all facets of finding senior care.