Mingle360 Implements Event Networking Solution for Social Matchbox
Live social networking solution enables all attendees to network with each other with a click of a button. The MingleStick's electronic business card technology facilitates one-click connections that are viewable online with profile pictures and contact information after the event.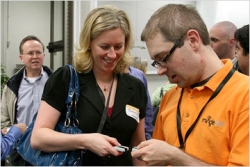 Fairfax, VA, April 08, 2009 --(
PR.com
)-- Mingle360 (www.mingle360.com) successfully executes its event networking solution for Social Matchbox. All attendees at the event received a MingleStick for peer-to-peer networking. Akin to an electronic business card, the MingleStick enables two people to connect with a simple click of a button. After the event, the connections are uploaded and viewable online.
"The MingleStick creates a fun, social environment for networking," says Dan Coffing, President and CEO of Mingle360. "Because the MingleStick can be handed to every attendee, the networking capability at an event is incredible. Social Matchbox was a great venue to showcase our technology and its usefulness."
"MingleSticks added a twist to the networking component of our quarterly event," says Robert Neelbauer, Founder and host of Social Matchbox. "Participants really liked the knowing that they could swap contact information with other participation on the day of the event and then make a visual connection after the event thanks to the photos taken and associated with participants by Mingle360's team."
Photo by Shashi Bellamkonda, Network Solutions
About Mingle360
Offered as a service to event organizers, the Mingle360 solution greatly enhances attendee networking at the event, surpassing business cards with up to date contact information and even facial recognition. It creates 'buzz' and excitement at the event and helps differentiate the organization from the competition. Mingle360 is the easiest way to turns real-world conversations into online connections and to produce dramatically more valuable networking events. For more information, please contact Mingle360 by calling 703-425-0402 or visit
www.mingle360.com
About Social Matchbox
Social Matchbox is DC's longest running open mic night and networking event for startup companies that are backed by angel and venture investors. Matchbox provides a quarterly "State of Startups" for the Mid Atlantic by fusing company demos, a startup job fair, investor introductions and the most relaxed tech networking event in DC. The company website is
www.socialmatchbox.com
###
Contact
Mingle360
Bradley Blinn
703-425-0402 x511
http://www.mingle360.com

Contact