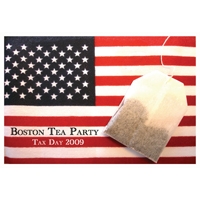 Boston, MA, April 15, 2009 --(
PR.com
)-- What was initially expected to be a simple anti-tax and governmental waste rally at the Massachusetts State House, has grown to thousands of citizens interested in coming out to participate in the Boston Tax Day Tea Party. As of Monday, the event location has been changed to The Boston Common, with hours 11:00 AM – 4:00 PM, and guest speakers from 12:00 Noon – 3:30 PM.
"The event has quadrupled in size, so moving it to a new location to accommodate the crowds was essential," said Corie Whalen, Event Volunteer Coordinator. "We started as three women volunteer citizens seeking to bring the nationwide Tea Party movement to Boston. We have bloomed into a tremendous event with over one dozen citizen speakers, hundreds of people on blogs and message forums and thousands of people expected to join us on Wednesday. This already has surpassed all of our expectations," said Whalen.
The nationwide Tax Day Tea Party movement is a grassroots group of Americans who've grown disgusted with egregious government spending and inequality in taxation. Over 3,000 Tea Parties are planned nationwide for April 15, 2009.
Todd Feinburg of WRKO-AM will act as emcee for the event. Confirmed citizen speakers represent a variety of grassroots organizations and include: Carla Howell, Committee for Small Government; Jim Stergios, Executive Director, The Pioneer Institute; Chip Faulkner, Associate Director, Citizens for Limited Taxation; Shawni Littlehale, Smart Girl Politics; Barry Hinckley, State Director, MA, Fair Tax; Bob Hedlund, State Senator Plymouth and Norfolk District, R-MA; Michael Johns, conservative leader and writer; David Tuerck, Exec. Director, The Beacon Hill Institute; Brad Marston, Managing Director of The Foundation for Conservative Solutions, LLC, co-Founder of Lets Get This Right.org; Kris Mineau, President, Massachusetts Family Institute; Paul Jehle, Executive Director, Plymouth Rock Foundation; Dale Graessle, Objectivist, speaking for the Ayn Rand Center for Individual Rights.
###