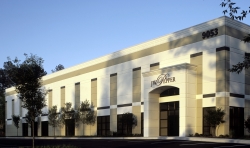 Paoli, PA, May 28, 2009 --(
PR.com
)-- J.W. Pepper, the world's largest sheet music store, began shipping customer orders from their two new music warehouses in the spring of 2009. May 19th marked the first day of operations at Pepper's new 75,680 square foot warehouse facility in Lithia Springs, GA. This facility, located just outside of Atlanta, serves customers in the eastern U.S. and foreign accounts. The facility is under the management of Kyle Badgero, assisted by Ron Cunningham.
The western U.S. is served by Pepper's new warehouse in Salt Lake City, which began operations in March of 2009. The 47,081 square foot Salt Lake City facility is under the direction of Rich Delong, assisted by Ed Chillington. Both facilities make use of advanced warehousing and fulfillment processes which allow Pepper to streamline their operations and improve an already high level of customer service.
In addition to the two warehouses, Pepper will continue to serve customers across the U.S. through fourteen store locations, each providing an environment inviting to music directors, teachers and musicians. Locations include: Paoli, PA; Lithia Springs, GA; Bismarck, ND; Carol Stream, IL; Fort Worth, TX; Indianapolis, IN; Lenexa, KS; Hopkins, MN; Grand Rapids, MI; Murray, UT; Dublin, CA; Winston-Salem, NC; Santa Fe Springs, CA and Tacoma, WA.
J.W. Pepper, leading retailer of sheet music in the world, has been in business for over 133 years, with multiple locations across the country including the corporate headquarters in Chester County, Pennsylvania.
###