ALLMAX Nutrition Launches Newly Reformulated RAPIDCUTS Hardcore Fat Burner
Fat burner from ALLMAX Nutrition was reformulated to elicit even stronger weight loss results. The RAPIDCUTS HARDCORE website was also revamped and recently revealed.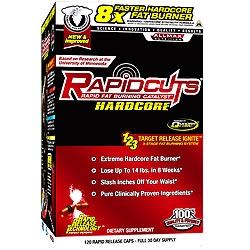 Toronto, Canada, June 05, 2009 --(
PR.com
)-- Summer is almost here and many are trying to find a way to lose those last few pounds and get ready for summer. The fat burner RAPIDCUTS HARDCORE, from ALLMAX Nutrition, was recently reformulated and the timing could not have been better. The updated formula provides cutting-edge ingredients that combined fight fat, increase the metabolism, help suppress the appetite and provide a powerful surge of energy.
RAPIDCUTS HARDCORE® is an extreme fat burner as it contains a 3-stage fat burning system that attacks fat and promotes weight loss from several different levels. It is part of a unique system that works to target, release and ignite fat cells and contains 99% active ingredients, meaning it contains absolutely no useless fillers or oils as found in so-called "liquid capsules." All the ingredients in this fat burning formula were added for their ability to accelerate the fat burning process.
RAPIDCUTS HARDCORE contains pure and clinically researched ingredients. In fact, research on the key ingredient in RAPIDCUTS HARDCORE resulted in over 14 lbs. of weight loss in just 8 weeks; this resulted in 16 times the percentage of fat loss vs. the placebo group (4.15% vs. 0.25%). Even more amazing, participants lost over 2" off their hips and waist.
RAPIDCUTS HARDCORE was reformulated with a couple of new key ingredients, including the new weight loss ingredient blend QuadraCore™. QuadraCore is a blend of four ingredients, that combined can help reduce the appetite. It does this by decreasing the transit time and gastric emptying. This proprietary blend also reduces serum leptin and CRP which help to regulate fat in the body.
"The most impressive thing about QuadraCore™ is that it is only one part of the overall formula," says Jason Bell, Director of Marketing at ALLMAX Nutrition. "There is a whole compliment of additional fat-burning ingredients that follow the 1,2,3 Target, Release, Ignite story that the fat burner RAPIDCUTS® is known for."
RAPIDCUTS HARDCORE is manufactured in a licensed, tested and government inspected pharmaceutical facility. Every ingredient added to this fat burner and every lot produced is independently lab tested for purity and potency.
ALLMAX Nutrition also revealed an impressive new website to coincide with the launch of the reformulated RAPIDCUTS HARDCORE formula. The website provides a wealth of information about dieting, nutrition and tips for losing weight. It also provides a thorough analysis of the new RAPIDCUTS HARDCORE fat burning formula and provides answers to many of the frequently asked questions about this fat burner. The website is very user friendly, informative and cutting-edge.
Why RAPIDCUTS HARDCORE
RAPIDCUTS HARDCORE ® is a fat burner which was created based on University Level Research and includes an isolated compound studied extensively at the University of Minnesota. RAPIDCUTS HARDCORE was created with a single focus; to create a formula specific to, and exclusively for fat loss and the results with this fat burner are truly impressive.
RAPIDCUTS HARDCORE can be found online (for US customers only) at ALLMAXNutrition.com. It retails for $44.99 for 120 caps. It can also be found at GNC, Vitamin Shoppe in the US and Popeyes, GNC and Nutrition House in Canada.
Find out more about RAPIDCUTS HARDCORE at:
http://rapidcutshardcore.com
Media Contact:
ALLMAX Nutrition
Kristine Hughes
khughes@allmaxnutrition.com
416.223.6861
About ALLMAX Nutrition
The ALLMAX Nutrition brand stands for Science, Innovation, Quality, and Results. ALLMAX Nutrition is known for its high quality and extremely effective line of cutting-edge sports nutrition products. Every product contains only the highest-quality and most-pure ingredients from around the world. ALLMAX believes in dedicating themselves to strict policies of quality in manufacturing improves all aspects of the ALLMAX supplement line. Most importantly, the quality of the products leads to results that have made ALLMAX the top choice for personal trainers, professional and amateur athletes and hard-training weight lifters.
###
Contact
Allmax Nutrition
Kristine Hughes
416.223.6861
http://www.allmaxnutrition.com/442-ALLWHEY-2lb.aspx

Contact