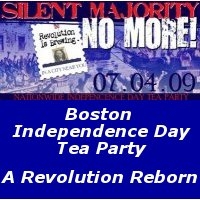 Boston, MA, June 11, 2009 --(
PR.com
)-- On Saturday, July 4th, citizens from around New England, concerned about the unrestrained growth in the size and scope of government will rally to promote individual liberty, free market ideals and Constitutional principles. The rally, to be held on the Boston Commons from 12 pm to 2 pm and at Christopher Columbus Park on Boston Harbor from 3 pm to 6 pm, will feature speakers from grassroots, business and conservative policy leaders. Working with the Greater Boston Food Bank, organizers have set up an online Food Drive and will be collecting non-perishable items to support veterans in need and their families at the events.
Billed as "A Revolution Reborn" the rally is a follow up on the highly successful Tax Day Tea Party held in Boston and in hundreds of cities across the country where attendees voiced their displeasure with the massive growth of an increasingly powerful federal government and unsustainable spending and debt. Speakers, led by Todd Feinburg of WRKO-AM 680 will offer their opinions and suggestions on how to restore the balance of power between the federal government and the states and individuals.
The goal of the organizers of the rally is to provide a platform for citizens and grassroots/netroots leaders to come together to inspire participation in the growing movement for a return to constitutional principles with a focus on recruiting and supporting candidates at all levels, who are dedicated to limited government, individual liberty and free market principles. Speakers scheduled to appear include Carla Howell, Committee for Small Government, Kamal Jain, Mass-Truth.org, Jim Sturgios, Executive Director of the Pioneer Institute, Barry Hinckley, MA State Director of FairTax.org, Brad Marston, Managing Director of the Foundation for Conservative Solutions, Sheridan Folger, Executive Director of SovereigntyAlliance.org, Jason Healy of StopUniversalHealthcare.org, Mike McShane of KillingOurJobs.org Jack Marino, Producer of the film, Forgotten Heroes and Doug Bennett, candidate for Boston City Council.
The event is non-partisan and organizers have neither invited any elected representatives to speak nor solicited funds from political parties. Attendees will have the opportunity to make donations and purchase items to help defray the costs. The organizers have attracted dozens of volunteers to help stage the rallies which will be broadcast live over the internet via UStreamTV and Blog Talk Radio.
Additional information is available at http://BostonTeaParty.ning.com
###