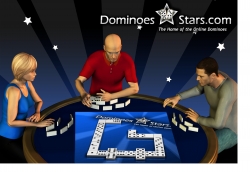 Larnaca, Cyprus, June 11, 2009 --(
PR.com
)-- New guys on the gaming block, DominoesStars.com hit 150,000 in three short months.
Very few online gaming sites can boast of such an accomplishment of enlisting 150,000 members within three months such as DominoesStars.com has. Many of the seasoned games sites such as several Casinos, Poker and Pay Game sites have not been able to reach that type of membership even after a year.
DominoesStars.com, CEO Vladi Bergman said, "It's always been our goal to bring
online domino
to a wider audience and establish DominoesStars.com as a mass market proposition we may have reached this milestone well ahead of schedule, but we've only just begun to tap the massive potential of this technology and there are Even bigger things to come for DominoesStars.com in the next year."
The reason for such impressive success is twofold. One because the game of Dominoes is an age old game that is simple yet intriguing. It has never failed to interest the game players in the past, present or likely the future.
With the keen sense of intuition of what the game of Dominoes is capable of creating DominoesStars.com utilized their expertise in being the first ever one of a kind online Domino site. Obviously, with impressive numbers such as 150,000 they are well appreciated and received.
DominoesStars.com have been unique in their approach of the online gaming Industry. They have not only diverted their attention to the online segment of the game but have become and still remain heavily involved in the game of Dominoes regarding the on land community. This has no doubt caused them to be the forerunners in promoting not only interest but involvement in the game itself. This has been in part due to their very generous sponsorship in three major Domino tournaments such as Las Vegas, Mexico, and St Petersburg as well.
With the well-rounded involvement by DominoesStars.com in this most exciting event, it has opened the doors for many that have always wanted to participate in the game but have not had the opportunity. Now by having a totally dedicated online Domino site such as DominoesStars.com to go to it means one can play the game whenever they want and at what level. If it is just a relaxing game of enjoyment one is seeking then this is the place for it. On the other hand, if one is looking for a competitive challenge perhaps involving a wager then DominoesStars.com has that covered as well. In addition to all of this excitement is that the 3D graphics of the website make it even more realistic to enjoy the game.
DominoesStars.com wanted to ensure that the game of Dominoes could be enjoyed around the world and supports English, Spanish, Portuguese, German and Russian. Plans are in the making to expand this area within the very near future.
There are many impressive events and comments that could be made about DominoesStars.com but the best would be a suggestion to visit the site. Here you will get a chance first hand to observe the two most popular versions of Dominoes in action. This being the "fives up" version well received by the USA and of course the most beloved "Draw Games" version popular to Latin America. There are always multi players' games available to participate in such as the 100,150,250,350 or even 500 point games. As you can see, there is no room for boredom when playing the game of Dominoes at DominoesStars.com
About Dominoes Stars
Dominoes Stars is the first professional online domino company specializing in providing a fun and interactive spin on dominoes. By incorporating poker style techniques, users can play on tables for cash prizes or play money, enabling an engaging and interactive gaming experience. The online dominoes website offers a unique opportunity to enrich player variety and improve their gaming strategy and skills by enabling users to compete against multiple players at once in 100, 150, 250, 350 or 500-point games.
For more information in English, go to
www.DominoesStars.com
###