The Memorial Flag - Re-Issue of September 11 Anniversary Shirt Made from 1,000 Images
Amazing new printing method turns breathtaking design into high fashion graphic t-shirt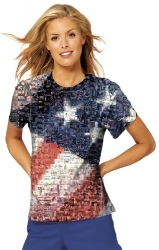 Medina, OH, July 03, 2009 --(
PR.com
)-- A special re-issue of the nationally known Memorial Flag t-shirt commemorating the events of September 11, 2001 has just been released at www.memorialflag.us.
The t-shirt, which was initially released back in 2006 to commemorate the 5 year anniversary of 9/11, has just been re-released as a high fashion piece of apparel, being distributed by WOWWEAR©.
A brand new and exciting printing method, much different from that used in 2006, is now being used which offers exceptional wash performance, and an incredibly high quality design suitable for retail clothing stores. It is also one of the softest t-shirts available in the industry. At first glance, the shirt appears to be a design of our great American Flag. However upon closer examination, you notice that the shirt is actually covered front, back, sides and sleeves with close to 1,000 smaller images of the events of 9/11. It is truly a masterpiece that you need to see, to believe.
The amazing Memorial Flag lithograph with the title "We Will Never Forget," which has been featured on numerous national television and radio shows, is also available via the website. It is printed on a gorgeous satin stock and contains a clear coat making this an incredibly high quality collectible.
The Memorial Flag has been the center of various fundraising efforts throughout the United States, and sold out shortly after its release. Over $50,000 has been donated from sales of The Memorial Flag to numerous charities including The Fallen Firefighters Fund and St. Jude Children's Hospital. Both the t-shirt and Lithograph are a Commemorative Limited Edition and are available for a limited time only at:
www.memorialflag.us
.
###
Contact
The Memorial Flag
Rob Hixenbaugh
440-487-7266
www.memorialflag.us

Contact