Web-Based Technology Changes the Face of Employee Onboarding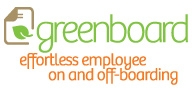 Littleton, CO, July 28, 2009 --(
PR.com
)-- Greenboard (
www.greenboarding.com
) is quickly becoming known throughout the PEO industry (Professional Employer Organization) as the "gold-standard" when it comes to employee on-boarding. Using a dynamic, web-based process, new-hire paperwork is virtually eliminated — allowing new employees to hit the ground running shortly after they're hired.
Burdensome paperwork has become a Human Resources nightmare as many companies hope to get their employees working as quickly as possible. The difficult economic times have resulted in many companies reducing their staff significantly and giving multiple job duties to their remaining personnel. The desire to "cut through the fat" had been a struggle until the inception of Greenboard.
A product of software company Efficient Forms, Greenboard is a proprietary web-based solution used to
streamline the employee on-boarding process
. Instead of filling out mountains of redundant paperwork, newly hired employees use an online interview to complete the process quickly and efficiently. The solution handles all local, state and federal tax forms, insurance enrollment -- even allowing employees to sign up for a company's softball team.
Once the employee has completed the process, all of their information is stored in the online "filing cabinet," reducing HR department clutter. Other important documents, such as driver's licenses and social security cards, are able to be uploaded into the system — keeping all documentation and paperwork together. An intuitive dashboard and customizable alerts make sure that paperwork is complete and filed in an appropriate amount of time.
Denver, Colorado-based PEO, Discovery Outsourcing (http://www.discoveryoutsourcing.com) has witnessed improved efficiency first-hand since implementing Greenboard. Carl Lombardo, President of Discovery Outsourcing, recognized the need for reducing wasted time in the workplace: "Utilizing Greenboard allows us to offer the most efficient and high tech solution available. We can give our clients the improved productivity that comes with technology, while still being a very interactive and high touch resource for business owners and their employees. Our clients are excited about the opportunity to reduce their paperwork hassles while easily meeting all governmental and insurance requirements."
Todd Fenske, creator of Greenboard and Vice President of Sales for Efficient Forms, saw the opportunity to use his company's technology for the PEO and Human Resources sector. "The exciting thing about our technology is that it can be altered and changed to fit any number of verticals, in this case the Human Resource and Employee Outsourcing markets. Our company knows that now more than ever, its important for companies to run as smoothly and use technology to increase their time and profitability. The ease of the employee on-boarding interview makes this a positive experience for everyone on all sides of the table."
To see more about how
Greenboard improves efficiency for employers
, see their short video on YouTube (http://www.youtube.com/watch?v=cvDOAMv-j6s)
###
About Efficient Forms: Efficient Forms, LLC, creator of Greenboard, specializes in business forms and data collection automation solutions. The company is experiencing explosive growth with a new approach to data collection, forms-completion and process workflow. With customers in many industries including Insurance, Financial Services, Human Resources and Compliance; Efficient Forms' Web-based product suite provides timely, economical solutions for businesses. For more information visit www.efficientforms.com.
Contact
Efficient Forms
Scot Talcott
(303) 785-8600
www.efficientforms.com

Contact