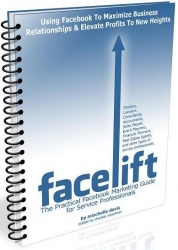 Seattle, WA, July 30, 2009 --(
PR.com
)-- No communication network, marketing channel, or advertising medium has ever represented a greater opportunity for those business owners offering professional services than does today's social networking services such as Facebook.
In 'Facelift: The Practical Facebook Marketing Guide for Service Professionals' online marketing expert Mischelle Davis reveals the practical strategies and simple tactics that can turn Facebook into a marketing platform for communicating and building relationships with customers, potential customers, and referral sources.
"In the coming years, Facebook and other social networking sites are going to completely change the way professionals promote their services," said Davis. "We are already seeing that by utilizing Facebook as a marketing communication platform, business owners can literally expand their Internet presence and increase their profits."
For service professionals, there are two important business truths: (1) having a good relationship with the customer is a key component to success; and (2) most new customers come as a result of word-of-mouth referrals. Facebook allows customers and referral sources to get to know service providers on a more personal level and enables customers to share their customer experience with their friends, relatives, co-workers, and business contacts in a way that takes word-of-mouth advertising to an entirely new level.
With 'Facelift: The Practical Facebook Marketing Guide for Service Professionals' business owners will learn:
How to create the best Facebook Profile for doing business;
How manage Facebook Privacy Settings for maximum business benefit;
How to make 'Friends' with clients, business associates, and referral sources;
How to interact with Facebook friends to build strong business relationships;
How to use Facebook Applications for business benefit;
How to use Pages and Groups to build a fanbase and communities to maximize your business exposure;
How to leverage Facebook advertising;
How to measure return on Facebook investment.
Facebook and is ideal for promoting service-based businesses such as: doctors, attorneys, accountants, business consultants, real estate agents, stock brokers/investors, and many other professional services.
'Facelift: The Practical Facebook Marketing Guide for Service Professionals' is available exclusively through
www.FacebookMarketingforProfessionals.com
.
Book Details:
Price: $49
Available: At www.FacebookMarketingforProfessionals.com
Author bio: http://www.facebookmarketingforprofessionals.com/bio.cfm
Language: English
To see the social media version of this press release visit:
http://www.marketmenc.com/FacebookPR/Facelift-PR.htm
###