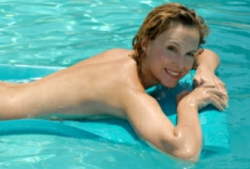 Palm Springs, CA, July 30, 2009 --(
PR.com
)-- Never been to a nudist resort before? You're missing out on the most fun way to travel. Surveys show vacationing at nudist resorts is one of the fastest growing trends in the travel industry.
The Terra Cotta Inn clothing optional resort and spa located in sunny Palm Springs, California
http://sunnyfun.com
is the popular nudist resort for topless and nude sunbathing. Called the most mainstream nudist resort in America, it is perfect for couples vacationing at a nudist resort for the first time. Women love staying there as they are allowed to ease into getting an all over sun tan at their own pace.
In these stressful times, you have to maximize your time and vacation dollars. A couple of days at The Terra Cotta Inn is like a week long vacation anywhere else.
And best of all, with this economy, they are a great value and are affordably luxurious.
Here is their fun reasons why you should vacation at a nudist resort this year:
10) No funny looking tan lines
9) No longer look bright orange from fake sun tanning lotion
8) Waves don't knock off your swim suit top.
7) No laundry when you return from vacation- save the environment
6) Say goodbye to $15 checked baggage fees
5) One more item checked off your bucket list
4) Shock your doc - Look doc, no tan lines
3) Each days hardest decision will be matching sandals to visor.
2) Friends will finally really want to see your vacation photos.
1) Vacationing at clothing optional resorts is just plain fun.
This summer, for a fun clothes free vacation, say goodbye to funny tan lines forever. Give The Terra Cotta Inn a call at 1-800-786-6938.
###