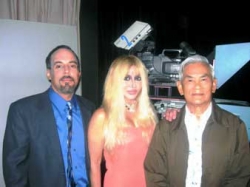 Huntington Beach, CA, August 05, 2009 --(
PR.com
)-- Kevin McDonald appeared as a guest host on "Eye on Entertainment" and interviewed award-winning engineer and teacher, Don N. Lee. "Eye on Entertainment" is broadcast weekly on Time Warner Cable in Orange and Los Angeles Counties. Don Lee was born in China and came to the United States when he was eight years old. The interview chronicles his journey from working in his father's laundry in New York to the Air Force, where he became an IT systems trainer, to a computer systems pioneer and recipient of 11 patents. Despite not graduating from high school, he attended Stanford and earned a B.S. and M.S. in Engineering from the University of Southern California. He went on to earn an MBA from Rider's College in New Jersey and was an engineering manager at leading technology companies, where he specialized in computer chips and earned patents for his work.
After retiring from technology, he decided to continue his education and received a Master's degree and teaching credential at 73 years old from Claremont Graduate University in Pomona. He became a chemistry and math teacher at a Los Angeles County high school and recently retired at 80 years old. He still works as a substitute teacher. An interesting part of his history is that his grandfather came from China to work on the railroads in San Francisco, and his father was born shortly thereafter in Oregon. There are no records of his family history, but it is thought that his father's mother may have been an American Indian. His journey from China to great success in the United States embodies the American dream.
Mr. Lee has seven children: Dawna, Kathy, Laurie, Rick, Allen, Eric and David. Dawna has an A.S. in Chemistry from Cypress College, as well as a B.S. in Business Management and MBA from Pepperdine University. Kathy, Laurie and Allen got their bachelor's degrees at UCLA. Kathy graduated from Harvard Law School and Laurie earned her M.S. degree as a nurse practitioner at Cal State Dominguez Hills. Rick and Eric received a B.S. in Film and Engineering, respectively, from USC and David graduated from UCI. His nephew David Wong was awarded an Emmy with his partner, George Daugherty, for their show, "Peter and the Wolf." Another nephew, Jimmy Wong, is an actor in Taiwan. His granddaughter Misty is a Fulbright Scholar who is currently studying in Japan. He will become a great-grandfather when his granddaughter Marissa gives birth in September 2009.
Special Guest Host Kevin B. McDonald is a producer and the host/correspondent for the Eye On Business and FACETS Television shows. He is the former producer of the Crime Talk Live radio program. He is a published fiction author and magazine writer. Kevin is a highly regarded public policy and cyber crimes prevention expert. During the day, Kevin McDonald is EVP for Alvaka Networks, a member of the National Board of Directors (BOD) for Web Wise Kids and Chairman of Government Affairs. Kevin is a trusted advisor to several state and federal legislators and was recently recognized by two major awards for his advocacy, including the 2008 Web Wise Kids Outstanding Commitment to Children's Online Safety Award. He has many published articles and opinion pieces and has done expert interviews for dozens of national and regional publications. Kevin's novel is entitled "Practically Invisible."
EOE is produced, directed and edited by John Cox and is also produced by John Alsedek. Brian Bryam, Steve Van Wormer, Paul Heising and Linda Maxwell of Time Warner Cable also worked on the shoot at the Costa Mesa Time Warner Cable studio.
About Eye on Entertainment
"Eye on Entertainment", a division of Eye on Excellence™ Productions, is aired twice weekly on Time Warner Cable in Orange and Los Angeles Counties. The "Eye on Entertainment" team covers entertainment events, awards shows and red carpets, and features interviews with successful people in all walks of life, exploring the traits they have in common. Dawna Lee Heising is the executive producer and host of EOE. She is a long-standing member of the Screen Actors Guild (SAG) & AFTRA, and is Ms. Universe 2009. The show is produced and directed by John Cox, an educator in the film and video department at Golden West and Orange Coast Colleges. John Alsedek is the EOE director of cinematography and also works as the production manager in movies for Robert Michael Conrad and James Nestor. The EOE photographer is David McNeil, who is a former executive with United Artists and was one of the developers of Pay-per-View. For more information, please visit www.eyeonentertainment.tv, www.youtube.com/eyeonentertainment and www.youtube.com/eyeonentertainment02.
###