"Street Noise" Welcomed at the Newburgh Free Library
Hudson Valley Musician and Artist will be honored on September 13th in Newburgh.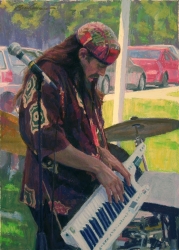 Newburgh, NY, August 25, 2009 --(
PR.com
)-- You wouldn't think that a library would welcome noise but when it comes to "Street Noise" at the Newburgh Free Library well, that's a different story.
"Street Noise" is an award winning pastel painting by Newburgh artist Clayton Buchanan that portrays Newburgh musician Neil Alexander performing in, where else, Newburgh. "This painting epitomizes the vibrant, growing commitment to art and culture in Newburgh and the Hudson Valley" says Mark Delano who recently purchased the painting and has asked that it be placed on display at the library.
The setting for Street Noise is Neil Alexander's performance at the Newburgh Waterfront in June of this year. Clayton Buchanan, who is widely known for his pastel paintings, captured the scene and presented it for display at the Kent Art Association's President's Show in July. Clayton said "I have been a fan of Neil Alexander, and his band 'Nail' for quite a while, and especially his emotional concentration when playing his music; that is what motivated this painting." The painting was an instant success at the Kent show and won the Solo Show Award and the Michael Abene Award for Jazz Theme according to Davia Kennedy Fink, Executive Director of the Kent Art Association.
Keyboardist Neil Alexander grew up close to the Hudson River and calls Newburgh his home. Neil has been performing a wide variety of music for more than 30 years including a large repertoire of original compositions that he describes as "a blend of red hot jazz, burning funk grooves and soaring soundscapes." Neil has a genuine passion for music that is evidenced by his work with music in all forms and styles from Composer/Arranger and Production of Live Sound to Musical Theater, Modern Dance and Film. Neil, with his band Nail, performs regularly throughout the region and quite frequently at the Newburgh Waterfront and library where his shows are always a hit.
On September 13th Neil Alexander and Nail will perform a very special show at the library, "Hudson Champlain Quadricentennial: A 400 Year Musical Journey." The show, which is free and open to the public, will also feature an unveiling of "Street Noise" which will then go on display at the library. The program starts at 2:00 pm at the Newburgh Free Library, 124 Grand Street, Newburgh, NY 12550.
###
Contact
Delano Systems Inc.
Mark A. Delano
914 762 6963
www.delanosystems.com

Contact