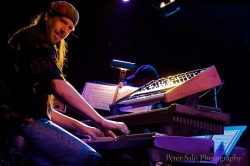 Newburgh, NY, September 03, 2009 --(
PR.com
)-- This year marks the 400th Anniversary of the historic explorations of Henry Hudson and Samuel de Champlain whose legacies to us are the river and lake that bear their names. In the grand scheme of things, 400 years is not a long time. In the development of Western Civilization and Culture however, the past 400 years has been very rich.
Of the many celebrations commemorating these pivotal events in history, one not to be missed is the "Hudson Champlain Quadricentennial: A 400 Year Musical Journey." From Bach and Beethoven to Duke Ellington and the Beatles the musical sounds from 1609 to 2009 will be heard through the hills in the heart of the Hudson Valley.
Hudson Valley resident Neil Alexander and his jazz-fusion trio 'Nail' will bring a one of a kind performance to the Newburgh Free Library on September 13th at 2:00 pm. The performance will feature Keyboardist/Composer Neil Alexander, drummer Nadav Snir-Zelniker and bassist Dan Asher with musical guests violinist Zach Brock and woodwind master Premik Russel Tubbs.
"The Hudson is an inspiration to me," says Mr. Alexander. "We drive along side it, or cross it, or gaze at it; but it is always a presence." The Newburgh Free Library site was chosen because "it forms a wonderful natural amphitheater," says Neil.
"Neil Alexander is one of the cultural treasures of the area" says Chuck Thomas, of the Office of Outreach Services for the Newburgh Free Library. Neil performs several free concerts each year at the library and along the Hudson River waterfront. This special musical event is made possible by a grant from N.Y.S. Quadricentennial Commission, through funds from the Dyson Foundation and with the support of the regional Newburgh Beacon Bay 2009 Committee.
Mr. Alexander will also be honored at this event with the unveiling of "Street Noise," an award winning pastel painting by Newburgh artist Clayton Buchanan that portrays Neil Alexander performing in, where else, Newburgh. "This painting epitomizes the vibrant, growing commitment to art and culture in the Hudson Valley" says Mark Delano, President of Delano Systems Inc., who recently purchased the painting and has asked that it be placed on display at the library.
Neil's guest musicians for this event are well-established artists. Zach Brock (violin) leads his own band, "The Coffee Achievers," and performs with a variety of groups including electric jazz bassist Stanley Clarke. Premik Russel Tubbs is an accomplished multi-instrumentalist, composer, arranger and producer and has worked with Sting, Carlos Santana, Herbie Hancock and many others.
The show will open with "At the Water's Edge," an original Neil Alexander composition, and proceed to span 5 centuries of music in tribute to the majestic beauty of the Hudson River. The show will culminate with Neil's forward-looking 21st century original compositions, a hi-tech blend of Jazz, Funk and Electronica as a musical precursor to what might come in the next 400 years.
Save the date:
Hudson Champlain Quadricentennial: A 400 Year Musical Journey
September 13, 2009 at 2:00 pm
Newburgh Free Library
124 Grand Street
Newburgh, NY 12550
Find out more on the Web:
Newburgh Free Library: http://www.newburghlibrary.org/
Neil Alexander: http://www.nailmusic.com/site.html
Peter Salo Photography: http://www.petersalo.com/
###