Nobelcom UK PINless Phone Cards – Easy and Convenient to Dial Any Destination
Nobelcom UK now offers the PINless dialing option on all its phone cards, for more convenience and an easier and faster dialing process.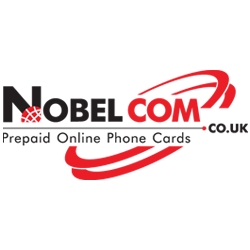 Hamilton, Bermuda, September 15, 2009 --(
PR.com
)-- Nobelcom
UK phone cards
come with 3 great features, to increase usability: Automatic Refill, PINless Dialing and Print Pocket Card.
Nobelcom.co.uk
phone cards now come with great features, to make them even easier to use. The Automatic Refill option allows anyone to activate an automatic refill of their card, when a certain balance limit is reached. This option is useful and convenient as it keeps customers form running out of credit right in the middle of an important phone call.
The PINless dialing option is the feature that's probably saving its customers the most time. To activate PINless dialing, one can register up to 6 numbers in the Nobelcom.co.uk online account. After this, every call made from one of the registered numbers will be connected, without the customer being asked to enter the PIN code. The PINless dialing option is both easy and convenient to use, as this saves time on dialing and keeps users from having to remember a 10-digit PIN code.
If users decide not to register any numbers with PINless dialing, there is a way to have the PIN all the time. The Print Pocket Card feature allows any Nobelcom.co.uk user to print a pocket card (it's called this way because it is the size of a regular credit card). On this card, customers will have, in print: up to three PIN numbers (for the phone cards most often used) and up to three Access Numbers, be they Local Access Numbers or Freephone. Keeping it in a safe place, like a wallet, the customer will have it close at hand whenever they need to make an international or domestic call.
About Nobel:
Nobel Limited Company is a market leader in the global telecommunications industry. The company's portfolio includes a variety of telecommunications products. One of Nobel's subsidiaries is NobelTel, Nobel's own facilities-based Carrier Division that buys and sells from industry-leading carriers and provides the network infrastructure for other Nobel divisions. These Nobel divisions provide varied telecommunications services, including online prepaid calling cards through EnjoyPrepaid.com, NobelCom.com and Nobelcom.co.uk, domestic and international long-distance services through NobelTalk, corporate telecommunications and call center services through NobelBiz. Nobel Limited Company is based in Hamilton, Bermuda, with global offices in North America, Eastern Europe and Western Europe. Nobel Limited Company can be found on the Internet at www.nobelglobe.com.
###
Contact
Nobel
Johanna Florea, Vice President of Sales & Business Development
+1 800 398 0521
http://www.nobelcom.co.uk/
http://www.nobelcom.com/
http://www.enjoyprepaid.com/

Contact