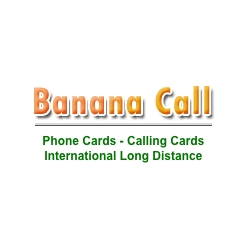 Panama City, Panama, September 15, 2009 --(
PR.com
)-- BananaCall gives 25% discounts for referring friends, plus two other great bonuses for first order or for switching to Automatic Recharge.
With BananaCall, all customers get special discounts using the Tell-a-Friend program: all they need to do is recommend the BananaCall products to their friends. Whenever one of the recommended friends places the fist order on BananaCall.com, the customer gets 25% discount on the next order they place.
Reasons for friends and new customers to sign-up? On top of the guaranteed high-quality and low rates on
phone cards
, BananaCall.com now offers discounts to all new customers, plus more bonuses and rewards. A 10% discount applies to any new customer for their first order on Banancall.com of minimum $50, if they also activate Auto Recharge option. With the 10% off, BananaCall customers save $5, the equivalent of up to 1224 minutes of talk time.
With BananaCall, customers can also benefit of the bonus on PIN for activating the Auto Recharge option. Once they switch from manual recharge to Auto Recharge they receive a 10% bonus on the fist automatic order.
Added to these 3 benefits, BananaCall also guarantees
great call quality and low rates
to all international destination, and also full-time customer support.
About BananaCall:
BananaCall is an online phone cards store that aims to offer the highest quality of service, maximum convenience and some of lowest rates on the market. With several years of experience in providing carrier services, BananaCall offers its tailor-made services to the end-user. Supported by its own facility-based carrier division, BananaCall offers its customers calling cards that they can purchase rapidly and securely, through the safest online payment processing system. This way, any customer gets excellent domestic and long-distance services without changing their existing provider.
BananaCall is an innovative concept, giving its customers the option to customize any plan, depending on their calling habits. There's no need to look any further. Whatever their needs are, there's the perfect BananaCall plan for everyone. With some great features and best rates out there, all customers can rest assure they make the smartest decision.
###