Pomology Introduces a Revolutionary Approach to Anti-Aging
High-Dose Blend of Trans-Resveratrol and Superfruit Extracts are the Secret to Battling Time's Affects on Skin and Body from the Inside Out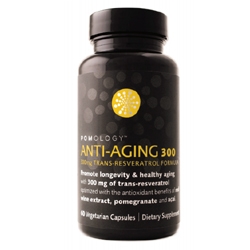 Hoboken, NJ, September 23, 2009 --(
PR.com
)-- The secret to keeping your skin young and healthy can't be found in an anti-aging cream or other topical solution. Research has shown that proper cell regeneration is what slows the aging process – something that has to happen internally. Pomology™, a revolutionary brand of targeted health supplements, now enables consumers to take a more effective, long-term approach to staying young with its resveratrol- and pomegranate-based Anti Aging supplements that not only benefits the skin, but also the whole body.
"Our diets, amount of activity, and age all affect how we look and feel," said Scott Kamber, CEO. "Several studies have shown that resveratrol can counter some of these effects from the inside out. We've based our Anti Aging supplements on this medical research, and created a unique product that combines these natural ingredients with others specific to cell regeneration and protecting the entire body from the negative effects of aging."
Since a 2006 Harvard study found that resveratrol can stave off the negative effects of high-calorie and high-fat diets, age-related diseases, and degeneration of cells, several products have brought this natural antioxidant that comes from grapes to market in low doses. New research, however, has shown that 300-milligram doses of resveratrol are necessary to achieve the optimal effect of the nutrient.
Based on this research, Pomology has created a totally new formula targeted toward battling the aging process. A unique blend of powerful antioxidants known to promote skin, cardiovascular, cellular, and immune system health are added to a full 300 mg of Resverapure™ brand resveratrol to help consumers address both internal and external effects of aging.
Additional antioxidants include:
Pomegranate and Açaí: These are two of the most potent antioxidents found in nature. Together, they work to combat environmental affects that can cause premature aging such as inflammation and oxidative stress. They also promote cardiovascular health, support good vision, contain phytochemicals for a younger-looking appearance, and have shown in studies to slow or reverse the growth of cancer cells.
Red Wine: Lauded the world round for its healthful benefits, red wine is one of only a few natural sources of resveratrol. Pomology's Anti-Aging formula delivers the same health benefits of 40 glasses of red wine per dose, but without the calories and effects of alcohol consumption.
"Addressing the effects of aging with products that temporarily impact the surface of the body simply isn't enough to have a long-term benefit," Kamber said. "Nor will changing the diet to include specific nutrients in unknown amounts. They key to effectively fighting the aging process is choosing the right antioxidants in the right doses. Pomology makes this simple for consumers and gives them the added ability to promote overall health in the process."
Pomology's Anti Aging formula is available in both 300mg and 100 mg vegetarian capsules and a pomegranate/açaí/blueberry flavored drink mix. Go to http://www.pomology.com/ for a complete listing of Pomology products. For more information about the anti-aging effects of resveratrol, Pomology's Anti Aging formula, or any of Pomology's products, contact Brant Herman at 877-766-2010 or brant@pomology.com.
About Pomology:
Pomology is a brand of Bullwater Health & Fitness, LLC. Pomology's condition-specific formulations feature a premium blend of proven ingredients that appeal to health-conscious consumers. Each formula is optimized with antioxidants that are properly paired to each formulation to maximize the condition-specific benefits of each Pomology product. Bullwater Health & Fitness was founded in 2005 by a team of renowned nutritionists and athletic performance experts who saw the need for nutraceuticals that fused the latest medical research with the long-term health benefits of natural antioxidants.
*Information and statements regarding dietary supplements have not been evaluated by the Food and Drug Administration and are not intended to diagnose, treat, cure, or prevent any disease. Dietary supplements are not intended to treat, cure, or prevent any disease.
###
Contact
Bullwater Health & Fitness, LLC
Brant Herman
877-766-2010
www.pomology.com

Contact