vDCR Backup for VMWare vSphere and ESX 3.x Official Release
Ardeo Logic, innovative provider of data backup & restore tools and services for VMWare virtual datacenter environments, today announced the release of vDCR Backup & Restore, the New #1 Backup solution for VMware environment. Ardeo Logic announces availability of vDCR, "Virtual Data Center Robot," the first backup product on the market to support new VMware vSphere 4 vStorage technology and establishes itself as the leader in the VMware backup market.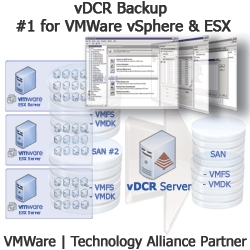 Toronto, Canada, September 29, 2009 --(
PR.com
)-- vDCR Backup & Restore is the only and the first in the World backup product that offers full support for the new VMware vSphere functionality and takes full advantage of the VMware vStorage API.
• Most reliable & the fastest backup and restore
• Native support for thin-provisioned disks
• Direct SAN to SAN LAN free backups
• Leverages ESX4 changed block tracking for significantly faster backups
Ivan Tsarynny, Ardeo Logic's President and CEO explains: "vDCR is a lean, not bloated, pure high-performance data backup & restore solution for VMWare environments. It was crafted for our enterprise clients in the banking, government & financial sectors, based on years of our in-house Virtual Datacenter deployment experience. In addition, vDCR is a future-proof product as it uses the preferred and recommended vStrorage API for VMware vSphere backup, since VCB is being phased out."
Ardeo Logic establishes its leadership with a product that is first to fully support both vStorage and VCB APIs, Full, Incremental and Differential; compressed & raw backups. vDCR's innovative features, functionality & outstanding performance that help achieve more for less.
Today's businesses are experiencing fast infrastructure growth with lower budgets. Compressed Full monthly, weekly Differential and daily Incremental backups are some of the features that were requested by customers; and help vDCR reduce monthly backup storage capacity by approximately 40% while providing full file level recoverability in seconds.
vDCR Backup & Restore is designed for large Enterprise environments and enables customers to connect and manage multiple servers through a single & fast MMC console. The centralized management helps reduce administrative overhead & operational costs.
vDCR Backup & Restore feature highlights:
• Agentless VCB & vStorage API Backup
• HOT Live guest VM backup and Cloning
• File Level Restore
• Full, Differential & Incremental backup (Data Delta backup)
• Real-life 100-300GB/hour data transfer rates with single to quad channel HBA
• Scalability to backup thousands of guest VM servers
Pricing and Availability
vDCR Backup & Restore Server is available at www.ArdeoLogic.com and through select resellers. Pricing starts at $499 per socket. 30 day evaluation copy is available for immediate download.
About Ardeo Logic Inc
Ardeo Logic is a VMware Technology Alliance Partner, providing Virtual Data Center solutions, deployment and innovative software products for vDC data protection. Learn more about Ardeo Logic at
www.ArdeoLogic.com
.
###
Contact
Ardeo Logic Inc
Ivan Tsarynny
416-855-2366
www.ardeologic.com

Contact