Nevada Department of Transportation (NDOT) Approved Monopole Inc's Permashield Premium Permanent Anti-Graffiti System
NDOT approves Monochem Permashield Premium as the environmentally friendly solution for permanent graffiti control.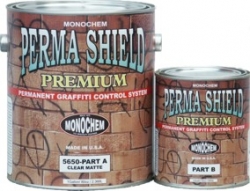 Los Angeles, CA, October 24, 2009 --(
PR.com
)-- On October 6th, 2009 the Nevada Department of Transportation (NDOT) announced the approval of Monopole Inc's Permashield Premium permanent anti-graffiti system. This qualifies the system for use on all NDOT anti-graffiti jobs. After rigorous testing the Permashield Premium became only the 2nd company to receive this exclusive approval.
The Permashield Premium is a water based, 2-component, ZERO-VOC, USDA/LAUSD/CDOT/NDOT approved permanent graffiti system. This ZERO-HAP aliphatic polyurethane boasts a 10-year anti-graffiti warranty while having the lowest possible toxicity: 0 VOC. It is ideal for concrete, masonry, stucco, metal, wood, EIFS, tiles, signs, murals, etc. This system easily removes surface disfigurements such as graffiti, markers, lipstick, chemical attacks, crayons, etc. countless times using the Citrus Clean Super cleaner. The Permashield Premium is also water, chemical, UV, hot tire, and stain resistant. This system is available in matte (5º), gloss (90º), clear or pigmented.
Monopole Inc. has been a leading manufacturer of environmentally friendly and high performance specialty coatings since 1975. Each of Monopole's 70+ products meet or exceed EPA and federal regulations for all 50 states.
For more information on PERMASHIELD PREMIUM or any other Monochem product, contact our technical services department at (800) 491-9977.
###
Contact
Monopole, Inc
Angela Wooddell
818-500-8585
www.monopoleinc.com
(800) 491-9977

Contact