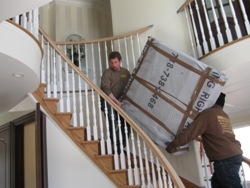 Ozone Park, NY, October 28, 2009 --(
PR.com
)-- Moving Right Along Moving and Storage is supporting the Home Stagers, Professional Organizers and Real Estate industries by providing these professionals with services that will meet the needs of their clients.
Moving Right Along Moving and Storage, a 12 truck operation, has joined forces with NAPO, the National Association for Professional Organizers, as well as RESA, the Trade Association for Professional Home Stagers.
Moving Right Along's additional services range from home cleaning, junk removals/cleanouts to small in-house moves (rearranging the contents of a home).
Clearing the clutter is key to helping home sellers temporarily purge a home without interfering with the homeowner's daily life. According to USA Today, residences with less personal "clutter" sell for 6.3% more and 41 days faster on average than those that didn't de-clutter. The Moving Right Along team will pack and remove whatever the Home Stager, Professional Organizer or Real Estate agent deems necessary and either dispose of it or bring it to Moving Right Along's storage facility for safekeeping. This allows for the home to be properly staged and sold.
Moving Right Along participates in chapter meetings by explaining to Professional Organizers, Home Stagers and Realtors this more economical option of professionally packing, removing and storing of those unneeded goods during the staging and selling process.
Jim Rueda, owner of Moving Right Along Moving and Storage stated "We all have to think and act out of the box. The troubles of the Real Estate and credit markets are affecting more than just the sellers, agents and buyers of a Real Estate transaction. When homes don't sell, people can't move and that hurts our industry."
"They couldn't be more courteous or pleasant to work with… which is yet another reason I rely on them. They have never let me down!" says Nancy Heller, proud Member of Napo.
"The quality of the personnel from the customer service people who take your calls and schedule the appointments is great and friendly. You never feel like you're "just another customer". And the movers themselves are great guys. Very well mannered, respectful and friendly." Says Herb DeCordova Real Estate Broker/Agent
"You have become a key component of my business and look forward to being able to offer your professional cleaning services as an essential part of my real estate staging projects." Says Certified Staging Professional Nairn Friemann
For more info on Moving Right Along Moving and Storage, visit them via the internet at
www.MovingRightAlong.com
or call (718) 738-2468 and speak to Natasha Santana. She can also steer you in the right direction for a Professional Home Stager and Personal Organizer.
Moving Right Along has grown to become one of New York's Tristate area premier moving companies offering unparallel services and commitment to a quick, reliable and friendly relocation transition.
###