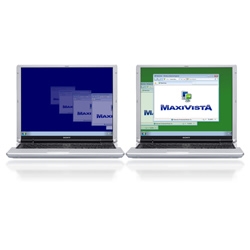 Trier, Germany, November 04, 2009 --(
PR.com
)-- Without buying an expensive display card, MaxiVista makes it simple to place windows on multiple screens, as if you were using one huge screen. The application increases your display area, allowing you to open more windows, and arrange windows to maximize your productivity.
MaxiVista can also be used as a four-way keyboard-mouse switch. There's no need to buy a hardware KVM switch, because the program lets you control as many as four computers with a single keyboard and mouse.
MaxiVista also lets you transfer data among all of your computers by sharing the Windows clipboard. Simply copy text or images to the clipboard on one computer, and paste it from the clipboard on any or all of the others.
The Mirror Pro version of MaxiVista can mirror the screen of one PC onto another computer, using a standard Ethernet or wireless network connection. This lets you run a PowerPoint presentation on your laptop, and see each slide on your projector or large-screen PC.
New features in version 4 include support for Windows 7 and Vista including the 64-bit versions. Because of the driver architecture in the most recent versions of Windows, it has not been possible for third-party software developers to create software-only solutions for connecting multiple monitors to a Windows PC. MaxiVista's virtual display drivers have overcome these limitations, making MaxiVista the only way to connect the computers in your office in such creative ways.
The software even allows you to use a higher screen resolution, up to 2560-by-1600 pixels, for the second monitor, even if your Netbook or other monitor might not normally be capable of these extended resolutions.
Another technical improvement in version 4 is that the clipboard synchronization does not require Windows' file-sharing system anymore, allowing you to cut and paste between machines without weakening security. Also, MaxiVista's remote control mode lets you override the UAC, enabling remote control of your secondary PC with your primary PC's mouse and keyboard, regardless of the UAC settings on your secondary PC.
Because computers generally lack the video inputs which would be needed to use a PC as a monitor screen, MaxiVista installs a virtual video driver onto your primary PC. This video driver tricks Windows into believing that an additional monitor is installed.
Instead of using a video cable, MaxiVista uses any standard Wireless LAN, Firewire, or Ethernet network connection to transmit the screen contents or to send keyboard/mouse/clipboard input to the second PC. The program compresses the images that are processed by its virtual video card, transmits them to the secondary PC, and uses a separate MaxiVista viewer program to decompress and display the images. Unlike lossy digital-analog-digital conversions that produced blurred images on analog monitors, MaxiVista provides crisp display quality.
The Standard version of MaxiVista v4 runs on Windows 2000/2003/XP/Vista/7, costs $39.95(US) for a single-user license, allows you to use a second PC as a dual screen, and may be purchased securely online from http://www.maxivista.com. The Professional version, for $49.95, includes the ability to remotely control other PCs, clipboard synchronization, and support of up to three secondary PCs. The Mirror Pro version, for $99.95, supports desktop mirroring and maximizing display performance among your PCs.
###