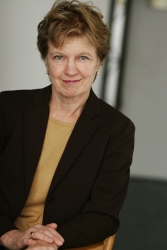 Boston, MA, November 09, 2009 --(
PR.com
)-- Dr. Ann A. Kiessling, Director of the
Bedford Stem Cell Research Foundation
, and Associate Professor of Surgery at Harvard Medical School, honored with the Jacob Heskel Gabbay Award for Biotechnology and Medicine.
This is the twelfth year of this award and the first year it has been presented to a woman scientist. This year, the award recognizes significant contributions to the field of assisted human reproduction. This international honor reflects Dr. Kiessling's leading position in reproductive technologies and stem cell research.
Dr. Kiessling's ground breaking
Special Program of Assisted Reproduction
(SPAR) allows HIV positive men to safely father children. The program's success has been due to a revolutionary methodology developed to test semen for HIV, and a patented process for safely transporting specimens throughout the world by mail.
As of October, 2009, 101 healthy babies have been born from SPAR - a shining example of this pioneering science in action. This methodology helped solve a problem for families previously overlooked by the reproductive medicine community.
Dr. Kiessling's work has also helped bridged a gap between assisted reproduction and basic research in stem cells. Using the micro-array technologies of previous Gabbay Awardees, Patrick O. Brown and Stephen P. A. Fodor, she is revealing the cellular machinery that gives rise to human embryonic stem cells. Understanding this cell cycle regulation is urgently needed. It will revolutionize outcomes in assisted reproduction, the derivation of stem cells and our understanding of cancer.
Dr. Kiessling will present a talk entitled, "Retroviruses, Reproduction and Regenerative Medicine" on Monday, November 16 at 3:45 PM on Brandeis University campus in Gerstenzang Hall #123, admission is free. The award ceremony will be at 6 PM. tickets required.
###