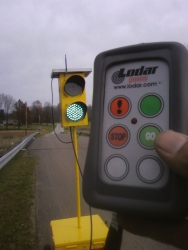 Cleveland, OH, December 01, 2009 --(
PR.com
)-- But developers at an Ohio-based company say they have the solution, especially for those in the area of construction and safety.
"It's called the Remote Controlled Traffic Light," said spokesman Mike Miller. "This new, breakthrough traffic light provides businesses, cities, organizations, and work crews with instant savings on their payroll, is safer, has LED lights, is solar powered, self contained, and everything fits all in one small box."
Miller explained that hiring an hourly employee, such as a flagger can cost at least $20 an hour for just 12 weeks, costing well over $9,600 per employee.
"Now let's say that you have 2 flagging employees: That's $19,200 in employee costs for just 12 weeks," said Miller.
The entire cost of the traffic light, Miller said, is half of that and it's a 1 time cost.
Moreover, a sign that there's still an urgency for businesses to cut cost anywhere they can, William Dunkelberg, chief economist for the National Federation of Independent Business, said a survey of small businesses found only about 7 percent of them added to their work forces in the second quarter of the year, while 24 percent cut jobs.
Whether the Remote Controlled Traffic Light is all that it's said to be, remains to be seen, but one thing is for sure: It's worth considering.
Miller said the Remote Controlled Traffic Light is designed for: Flagging Services, Road Construction, Traffic Control, City/State Utility Departments, Tree Trimmers, Bridge Repair/builders, Cable TV crews, Telephone and Electrical Crews, Rental Companies, FEMA and other disaster crews.
"It saves everyone a ton on payroll, requires no operational or maintenance costs, and is solar-powered, so it's better for the environment," Miller stressed.
Danny Greer, owner of B&B construction in Houston said his company's profits are down 40% and is looking for ways to cut cost wherever he can.
"If this can help me do it, then I'm definitely going to look into it, Greer responded…
For more information about the Remote Controlled Traffic Light, visit:
http://www.remotetrafficlight.com
--- With a financial crisis looming across the globe, large and small businesses, cities, and organizations alike have struggled for ways to cut expenses without affecting overall performance.
###