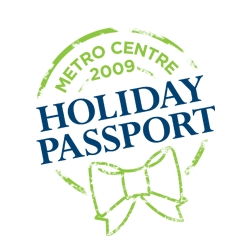 Peoria, IL, December 01, 2009 --(
PR.com
)-- This holiday season, Metro Centre shops and restaurants have partnered to launch the "Passport to Metro" promotion. The month long event promotes Metro Centre's locally owned and operated businesses and the spirit of Peorians serving Peorians.
Customers can pick up free holiday passports at all participating Metro Centre shops and restaurants starting Monday, November 30th.
Participants are required to collect passport stamps from 5 individual merchants. No purchase necessary. Once a participant has collected the required stamps, they must return the passport, with their name, phone number, and email address filled in, to the Metro Centre Guest Services Office, next to Bard Optical and place it in the collection box.
Each Wednesday in December, Metro Centre will draw a passport from the entries for a prize. The first drawing will be Wednesday, December 9th leading to the Grand Prize Drawing on Wednesday, December 30th.
"Our Passport to Metro holiday promotion could be one lucky couples ticket to the Mexican Rivera, courtesy of Alexander Travel," says Metro Centre Manager, Jason Fuller.
"Passport to Metro" Prizes:
December 9th – (4) $50 Metro Centre Gift Cards
December 16th – (2) $100 Metro Centre Gift Cards
December 23rd – (2) $250 Metro Centre Gift Cards
December 30th – Grand Prize (All-Inclusive 4-Night Luxury Vacation for Two)*
*Airfare, accommodations and ground transportation are included. This once-in-a-lifetime romantic getaway courtesy of Alexander Travel.
More details on the Holiday Passport to Metro promotion are available on the shopping center's website at www.shopmetrocentre.com. Participants can stay informed by following Metro Centre on Twitter @Metropeoria or by becoming a "Fan" at facebook.com/shopmetrocentre.
Peorians have depended on Metro Centre for more than 30 years — and counting. The stores are still locally owned and operated, and their success is based on a simple, homegrown recipe — friendly faces behind the registers, a unique selection of stores and a commitment to friendly, personal service.
Contact Info:
Jason Fuller
4700 N. University St. Suite 24
Peoria, IL 61614
Phone: 309.692.6690
Email: jason@shopmetrocentre.com
Website:
www.shopmetrocentre.com
Follow us on Twitter @metropeoria
Become a Fan at facebook.com/shopmetrocentre
"Metro Centre Holiday Passport" Terms and Conditions
*Participants that win any prize leading up to the Grand Prize drawing will be re-entered for the following drawings including the Grand Prize drawing. Participants are only eligible to win one prize per drawing. 
Metro Centre Merchants and their agents are not eligible to participate.
The contest runs through 12/30/09 and is open to all legal U.S. residents 18 years of age and older. All winners will be selected in a random drawing from all submissions received previous to the date of the drawing. No purchase necessary. Prizes are non-transferable and may not be sold, traded or bartered. Prize winners will be notified by email and/or phone, based on information provided by the contestant when entering the contest, by 1/15/10. Employees of Metro Centre and any of its tenant businesses and their immediate families are not eligible to enter. Final deadline for entries is 10 a.m. 12/30/09.
For complete terms and conditions, email your request to info@shopmetrocentre.com
###