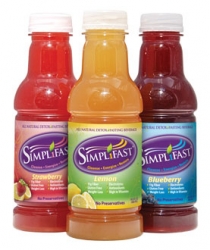 Novi, MI, December 09, 2009 --(
PR.com
)-- Simplifast, the world's first all natural ready-to-drink lemonade diet beverage, expands reach into the Midwest with BetterHealth Markets in the greater Detroit, Ann Arbor and Lansing areas. BetterHealth is a leading vitamin and supplement chain and the Simplifast lemon detox cleanse drink is in high-demand by its health conscious consumer base. Simplifast has reinvented a healthier and more palatable Master Cleanse Diet (aka the Lemonade Diet) by adding important nutrients, high fiber and adding a delicious and satisfying all natural flavor profile, which other products lack. Simplifast was founded on convenience and through partnerships with key storefronts makes its proprietary lemon detox formula available to consumers when and where they want it at retail.
"Simplifast is a proprietary ready-to-drink formula based on the well-known lemonade diet concept," says Dianna Toomey, Simplifast Founder and CEO. "Health-oriented consumers around the world know the many benefits of fresh lemons and high fiber, and it is our goal to educate the mass-market on these health benefits."
Simplifast was founded to enable consumers a convenient and easy way to detox, cleanse and diet – facilitating better health and well-being. Prior to founding Simplifast, Dianna Toomey sampled every diet cleansing product on the market and could not find a solution that worked and suited her active and healthy lifestyle. This resulted in years of intensive research to formulate Simplifast, the first ready-to-drink convenient way to detox, cleanse and fast.
Toomey, a Michigan native adds, "Until now, Michigan residents have only been able to access Simplifast products through online stores and we are now proud to partner with BetterHealth Markets to deliver Simplifast directly to its health-oriented consumers. Simplifast is making a difference in people's lives on a daily basis and we look forward to partnering with more top notch retailers to enable their clientele to experience the magic and convenience of the Simplifast lemon detox diet."
About Simplifast®
Simplifast is the world's first all natural, ready-to-drink fasting diet beverage based on the lemonade diet concept. It contains fresh lemons, 11g fiber, 100% Vitamin C & B6, and all the vitamins, antioxidants, electrolytes necessary to support the body and promote detoxification during a fasting diet. Designed for one, three and seven-day fasting diets, Simplifast is also a great alternative to sugary sports drinks, caffeinated energy drinks and unhealthy snacks and beverages. Simplifast is packaged in 16-ounce bottles and comes in three flavors including Lemon, Strawberry and Blueberry. Visit us online at www.simplifast.com, and also available at Amazon.com, and in leading specialty supermarkets and supplement shops throughout the U.S and Internationally. For more information visit www.simplifast.com. Twitter, www.twitter.com/simplifast.
###