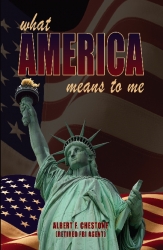 Indianapolis, IN, December 22, 2009 --(
PR.com
)-- What does it mean to be an American citizen? Why is it important to keep God in the Pledge of Allegiance? Are there anti-Americans living among us who want to change our form of government?
Author Albert F. Chestone a retired FBI agent and proud American Patriot, addresses these questions and many more in his new book What America Means to Me. Drawing from the voices of many authors, historians and political figures, Chestone has produced a comprehensive anthology of essays and speeches about the uniqueness of America and the American experience.
What America Means to Me contains a wide range of articles written by Martin Luther King Jr., Ronald Reagan, Eli Wiesel, Dinesh D'Souza, Honorable Lee Hamilton, Senator Tom McClintock, Dr. James Dobson, and Joy Hakim, to name a few. People will enjoy reading what these important figures have to say including the author's moving articles about such topics as American history, immigration, God, and the challenge of freedom.
What America Means to Me is an eclectic mix of prose held together by the common thread of praise for our great nation. This is the perfect book for anyone who feels proud to be an American.
###
For further information contact: Ray Robinson at 317-228-3656, via email at RayR@DogEarPublishing.net, or through the website at: www.dogearpublishing.net
What America Means to Me
Albert F. Chestone
Dog Ear Publishing
ISBN: 978-159858-895-8
Available at Ingram, Baker&Taylor, Amazon.com, Barnes&Noble, Borders and fine bookstores everywhere.