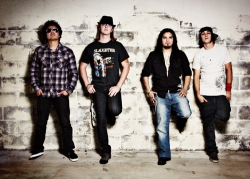 Los Angeles, CA, December 25, 2009 --(
PR.com
)-- Take a ride with Black Velvet Deluxe and check out Rider magazine's online video premiering Honda's 2010 VRF1200F motorcycle.
"We are excited to give our fans the unique opportunity to be able to preview Honda's hottest new ride while enjoying the hard-driving MY PRIDE," says Black Velvet Deluxe manager Stacey Marmolejo. "This video is a great ride, both musically and of course for hard-riding Honda motorcycle enthusiasts."
Rider magazine (www.ridermagazine.com) has long set the industry standard for driving home sensational footage of road tests and the band is honored to have been selected to back up this video with one of their newest songs. Black Velvet Deluxe's honest rock and roll is a great fit for Rider magazine's elite audience of serious motorcyclists.
Watch the newest Rider 360 video and listen to MY PRIDE, an original new song by Black Velvet Deluxe at www.ridermagazine.com.
Be sure to select Part 2 of the Honda 2010 VRF1200F Rider 360 video to experience Black Velvet Deluxe's newest hit, MY PRIDE.
When you are done having 'Born to Ride' dreams over the 2010 Honda VRF1200F motorcycle, be sure to head over to Black Velvet Deluxe's revamped website (www.blackvelvetdeluxe.com) to listen to all four of their latest songs, and learn more about these play-hard, ride-hard, adrenaline addicted musicians.
About Black Velvet Deluxe: Black Velvet Deluxe is a rock music band out of Los Angeles CA. Comprised of four exceptionally talented musicians, Black Velvet Deluxe came together to bring back the pure raw, gritty sounds of rock music that recent bands have attempted to replicate with technology. True rock music fans appreciate the musicianship required to deliver this style of rock and the attitude with which Black Velvet Deluxe delivers. Visit www.BlackVelvetDeluxe.com to learn more.
About Rider magazine: Rider magazine is a must read for the sport, road and touring motorcycle enthusiast. Each issue showcases how-to articles on maintaining and improving your machine, extensive road tests, the best places to go and how to get there. We'll even keep you up-to-date on the new models and hot products in the motorcycle industry through both our magazine and our website www.ridermagazine.com.
###