Only One is Required to Lead – A Book with a Modern View to the Ageless Biblical Proverbs
The book of Proverbs is rich in knowledge but even though it is a guide to righteous and harmonious living, it may be difficult to apply these texts to our time. Only One is Required to Lead, a newly released publication by Bridget Waldron, is a book that merges the past with the present, and confirms that the wisdom of old, is in no way primitive.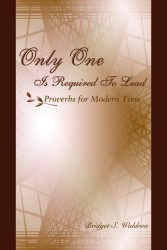 Port of Spain, Trinidad and Tobago, January 02, 2010 --(
PR.com
)-- Only One is Required to Lead – Proverbs for Modern Time, by author Bridget Waldron, is a dynamic yet precise book that emphasizes the importance of living each day with a positive mindset, as well as interacting with others in respect, love and understanding. It was written with the intention of enhancing spirituality and is meant for anyone irrespective of religious beliefs, age or race.
Inspirational in her writings, Bridget Waldron focused on personal leadership. She used unique quotes of wisdom which touch on life, self esteem, relationships with family and friends and the impact God can have upon each of us.
The author said, that "being an exemplar simply means living each day based upon the principles you teach," and "extending your hand to someone in humble circumstances is not only a form of charity but also a symbol of equality, in that all human beings deserve a fair and stable way of life."
Only One is Required to Lead – Proverbs for Modern Time, a book of divine encouragement is available globally.
About the author: Bridget Waldron, a motivational speaker at age 14 at her church, wrote many strong and uplifting essays throughout the years that dealt with Christian living. Now at age 29, she is determined to reach people across the globe to positively change lives through the written word.
Only One is Required to Lead – Proverbs for Modern Time
By Bridget Waldron
ISBN: 978-976-8226-09-9
Available for purchase at: Amazon.com, Amazon International Sites, Barnes & Noble and Lulu.com
###
Contact
Bridget Waldron
868-312-2911
stores.lulu.com/bswaldron
P.O. Box 257
Port of Spain
Trinidad W.I.

Contact