Applied Food Sciences Inc. Appoints CK Nutritional Ingredients as Its Exclusive Sales, Marketing and Distribution Partner for the Canadian Natural Health Products Market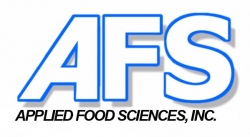 Austin, TX, January 05, 2010 --(
PR.com
)-- Applied Food Sciences Inc. Austin, Texas (AFSTM) and CK Nutritional Ingredients (CKNI), Toronto, Ontario, Canada are pleased to announce the execution of an exclusive sales, marketing and distribution agreement for the Canadian natural health products market. Specifically, CKNI will market AFS' innovative functional ingredients (including GCATM Green Coffee Bean Extract, CDG™ Calcium D-Glucarate, Preventium™ Potassium Hydrogen Glucarate and BTFTM Black Tea Theaflavin Extract) to dietary supplement and natural health products manufacturers and marketers, exclusively covering Canada.
Applied Food Sciences Inc. is a health sciences organization dedicated to providing cost effective nutritional solutions to the entire nutrition industry through processing techniques, functional ingredients and supporting product development and formulation efforts. AFS provides expertise in merging consumer interest with supporting science to assist its customers in creating branded products with apparent efficacy, high demand and eminent product success.
CK Nutritional Ingredients is a Toronto, Canada-based supplier of unique and innovative science-based nutraceutical raw materials, combining high-level sales, marketing and distribution capabilities. As a wholly-owned division of C.K. Foods Inc., they are truly committed to providing the Canadian natural health products industry with the very best in evidence-based health ingredients.
With the majority of CKNI's product portfolio consisting of proprietary compounds backed by well-designed human clinical studies and extensive safety data, the AFSTM functional ingredients product portfolio is an excellent fit within CKNI's current product offerings. The alliance builds on the strengths of both organizations together to provide substantial nutritional solutions to the Canadian marketplace.
About CK Nutritional Ingredients Headquartered in Toronto, Canada, CK Nutritional Ingredients is a division of C.K. Foods Inc., a leading importer and distributor of innovative, value-added raw materials to Canadian food, beverage and human nutrition markets. For additional information please contact Michael Chernyak at (905) 760-1176, Ext. 222, or mchernyak@ckfoods.com.
About Applied Food Sciences Inc. Applied Food Sciences, Inc. (AFS™), based in Austin, Texas, is a research and market driven organization with a continued commitment to helping improve the health and wellness of individuals through nutrition-based science. AFSTM is a company focused on the development and supply of specialized proprietary technologies and functional ingredients that increase value to our CPG customers. For additional information please contact Chris Fields at (847)550-8978 or cfields@appliedfoods.com
###
Contact
Applied Food Sciences Inc
Chris Fields
512.732.8300
www.appliedfoods.com

Contact