Pool Inc. Releases Manga Balloon Maker for iPhone - an App that Lets You Put Words in People's Mouths
Pool Inc. today releases Manga Balloon Maker ver. 1 for iPhone and iPod Touch, an app that allows users to caption photos with speech- and thought-balloons containing text then share them via email or Twitter.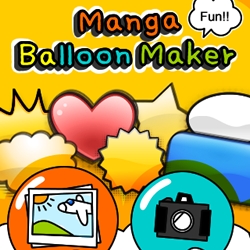 Tokyo, Japan, February 10, 2010 --(
PR.com
)-- The look on people's faces often gives away what they're thinking, whether it's the bored indifference of a commuter in the morning or the excitement of a child in a playground. Capturing the thoughts – real or imagined – behind those expressions is what Manga Balloon Maker is all about.
Available on Apple's iTunes App Store from today at a special introductory price of US$0.99 (€0.79, £0.59, 115 yen), Manga Balloon Maker, from Tokyo-based developer Pool Inc., is the quickest and easiest way to caption photos with speech– or thought-balloons then share the results with friends and family via email or Twitter.
Obviously the first thing you need is a picture to caption. Manga Balloon Maker gives you the option of taking a new photo or selecting one from your Photo Albums. While capturing a spontaneous moment with the camera is half the fun of this app, you'll soon find yourself captioning your album photos of friends, people in the street, dogs, cats, cars, rocks… They're all just waiting for you to give them expression.
Speak Your Mind
Once you have your picture on screen, it's time to get a balloon happening. Hit the Open tab at the bottom-left of the screen to bring up the balloon panel. There are twenty different balloon types to choose from. Tap to select one and drop it on top of your photo. You can now drag it to position it, as well as use standard multi-touch gestures to rotate it, enlarge it or shrink it. If you need the bubble's pointer pointing in a different direction you can do that too.
Now for the all-important text for the balloon: double-tap the balloon to bring up the Balloon menu and choose Label text. The keyboard appears for you to type the balloon text. Hit OK when you're done and you have your balloon complete with text ready to go. Want to do a little more fine-tuning with the position, size or rotation? No problem. You can even add a second (or a third) balloon to the picture.
Share And Share Alike
Of course, making manga balloons is only really fun if you can share them with others. Manga Balloon Maker gives you two options for doing just that. Hit the Send button at the bottom of the screen to bring up the email and Twitter options. The email option passes you over to the Mail app with your picture already attached. The Twitter option lets you tweet a message and share the photo via the yfrog image and video sharing service.
If you want to save your manga masterpiece to your photo album, you can do so at either the 'Normal' size (431 x 320 pixels) or the 'Small' size (240 x 179 pixels). The saved photos make great avatars or pictures to accompany email signatures – let people know what you really think.
About Pool Inc.
Pool Inc. was founded in 2009 by Tomoya Nakamura. His first iPhone app, Funky Effects, reached #2 in the Japan App Store 'Entertainment' category. Manga Balloon Maker is the second app to be released by Pool Inc.
Manga Balloon Maker is also available in a free Lite version which has all the features of the full version but with a limited choice of balloon styles and without the ability to share pictures using email or Twitter directly from within the app.
App Essentials
Title: Manga Balloon Maker
iTunes Link (Full ver.): http://itunes.apple.com/jp/app/id349101422?mt=8
iTunes Link (Lite ver.): http://itunes.apple.com/jp/app/id349836434?mt=8
Category: Utility
Release Date: February 10, 2010
Price: $1.99 / €1.59 / £1.19 / 230 yen
(Introductory price: $0.99 / €0.79 / £0.59 / 230 yen)
Version: 1.0
Size: Approx. 4.0 MB
Developer: Pool Inc.
Developer URL:
http://www.pool-side.jp/iphone/eng/mbm.html
YouTube Video: See link above
Languages: English, Japanese
Requirements: Compatible with iPhone 3G, iPhone 3GS, iPod Touch.
(Device must have a camera to use the camera functions)
Read this Press Release On-line
###
Contact
Modis Design Inc.
Peter Slade
+81 (0)3 5672 8891
www.modisdesign.com/en/
Modis Design is the PR contact for Pool, Inc. Please contact them for promo codes for the app if you would like to review it.

Contact